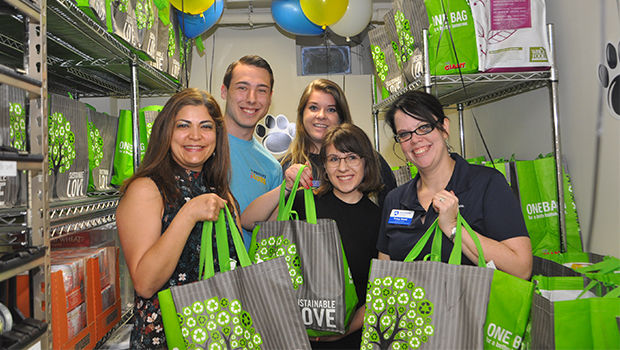 The Penn State Abington LionShare food pantry opened its doors last week at a crucial time for students struggling with hunger. A campus-wide survey confirmed an increase in hunger toward the end of each semester when student loans and other money often run short.
Three Philadelphia region news stations including NBC10 and 6ABC joined the campus community for the LionShare opening, speaking to students and Fran Pahlevani, the associate professor of mathematics who led the pantry project.
"We hope that every student and person in need who is part of our community finds relief from the incredible pressures of food insecurity," Pahlevani said.
The LionShare emerged from the concerns of Abington faculty and staff who knew of students experiencing food hardship. John Thompson, lecturer in art and one of the coordinators of LionShare, said it's a hidden problem.
"We learned that faculty and staff were providing opportunities for students to obtain free food and an increasing number of students were using these resources," he said.
"We hope that every student and person in need who is part of our community finds relief from the incredible pressures of food insecurity."

-- Fran Pahlevani, faculty, Penn State Abington
The campus community then pooled its resources and launched into finding the most effective way to mitigate the problem. Among the efforts:
A faculty member designed a survey for students and analyzed the results;
Students enrolled in CIVCM211: Civic and Community Engagement worked developed a food pantry website and worked with faculty to develop a shopping list of healthy food items;
And faculty and staff collaborated to find space in the Rydal Building and make it usable for the LionShare.
Aside from the logistics, two contests further engaged the campus community. Lecturer Curt Heintzelman won a gift card, which he donated to LionShare, for coming up with the winning name for the pantry.
"I wanted the name LionShare to represent the warm, selfless spirit of giving that we see at Abington and throughout the Penn State community," he said.
When it came time to stock the pantry, another contest pitted teams against each other to see who could donate the most food and reusable shopping bags. The Math Geeks Plus won and an additional $2,350 in cash was donated by faculty, staff, alumni, and friends of Abington.
The project was supported by Chancellor Damian J. Fernandez and staff from offices of Student Affairs, Maintenance and Operations, and University Relations as well as faculty and students.
Reporting assistance by first-year English major Abby Capizzi.
+++++++++++++++++++++++++++++++++++++++++++++++++++++++
Penn State Abington, formerly the Ogontz campus, offers baccalaureate degrees in 18 majors at its suburban location just north of Philadelphia. Nearly half of our 4,000 students complete all four years at Abington, with opportunities in undergraduate research, the Schreyer honors program, NCAA Division III athletics, and more. Students can start the first two years of more than 160 Penn State majors at Abington and complete their degrees at University Park or another campus. Lions Gate, our first residence hall, will open this August.