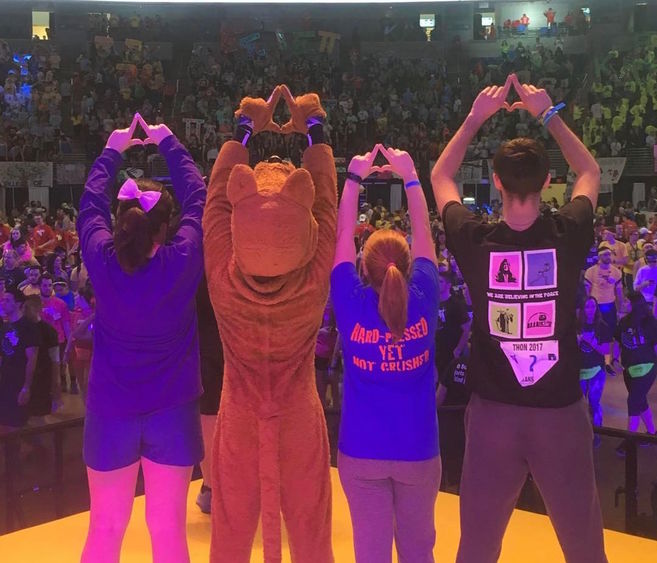 Three dancers and about 50 moralers from Penn State Abington are recovering this week from one of the most exhausting and rewarding weekends of their lives — the annual 46-hour no sitting, no sleeping dance marathon known worldwide as THON.
They danced, they cried, and they cheered as they celebrated contributing $25,000 from Abington THON to combat pediatric cancer. 
Dancers Brittany Darnley, Nick Pelbano and Shannon Lynott were in the spotlight, but the Abington campus community was with them organizing and attending events to raise money. 
And each year the dancers leave Abington with a police escort and a crew from local news station 6ABC filmed them.
"Our dancers go through a strict diet and workout plan, on top of their academic and personal responsibilities. They work out five days a week and have stretch workouts six days of the week."

— Shane White, executive director, Abington THON
"They danced for 46 hours, for the fight, for the Four Diamonds families, For the Kids in hope that one day we will dance because WE HAVE A CURE!"

— Shane White, executive director, Abington THON
The Penn State IFC/Panhellenic Dance Marathon is the largest student-run philanthropy in the world. THON raises funds to fight pediatric cancer. Since 1977, THON has donated more than $114 million for the Four Diamonds Fund at Penn State Hershey Children's Hospital.  THON 2015 will take place from Feb. 20 to 22 at Penn State's Bryce Jordan Center. Go to thon.org to learn more.
+++++++++++++++++++++++++++++++++++++++++++++++++++++++
Penn State Abington, formerly the Ogontz campus, offers baccalaureate degrees in 18 majors at its suburban location just north of Philadelphia. Nearly half of our 4,000 students complete all four years at Abington, with opportunities in undergraduate research, the Schreyer honors program, NCAA Division III athletics, and more. The Lions Gate residence hall will open in August.