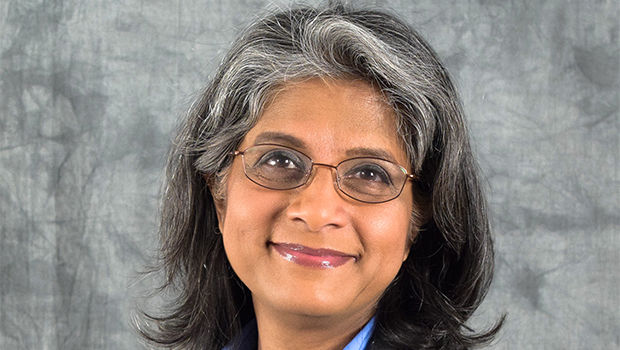 ABINGTON, Pa. — A decade of research by a Penn State Abington professor into the consumer behavior of and marketing to some of the world's poorest residents resulted in striking findings, detailed in several academic publications.
These bottom-of-the-income-pyramid (BoP) and subsistence consumers in India are a profitable market segment for multinational companies such as Unilever. Worldwide, the BoP comprises two-thirds of the population with purchasing power estimated at $5 trillion.
Shruti Gupta, professor of marketing at Penn State Abington and author of the studies, said, "Sixty-nine percent of India's population is poor. They live on $2 a day or less." 
Three marketing journals and one academic book accepted Gupta's findings for publication.
In "Despite Unethical Retail Store Practices, Consumers at the Bottom of the Pyramid Continue to Be Loyal," (Gupta et al, The International Review of Retail, Distribution and Consumer Research), Gupta documented loyalty among the poor to mom-and-pop stores, or kirana, despite the fact that store owners regularly engage in unethical practices such as withholding premiums (buy-one-get-one-free, discounts etc.). High illiteracy rates among BoP consumers decreases awareness of these incentives while store owners offer rolling, interest-free credit and social engagement that reinforces their relationships with consumers.
"This loyalty is deeply entrenched, it's a sociocultural phenomena," Gupta said. "In Mumbai, I kept hearing a store owner refer to female buyers as 'elder sister,' as a term of respect, or 'elder sister-in-law.'"
She said the findings carry implications for companies that market consumer goods to the BoP since they invest heavily in incentives.
In "The Meaning and Nature of Aspirational Consumption at the Bottom of the Pyramid – An Exploratory Investigation from India," (Gupta et al, Journal of International Consumer Marketing), posed the question, "What is aspirational consumption to the poor? They can't buy homes or cars or phones so they spend on TVs, blenders, eating out," Gupta said.
"But their highest aspiration is education for their children," she continued. "Most of the participant pool is illiterate so what's going to improve their quality of life and that of their children? Education."
The research concluded that to market profitably to this segment, companies should target the BoP with products focused on strengthening the capabilities and, therefore, the capacity to aspire of the poor.
In "The Nature of Household Decision Making at the Bottom of the Pyramid – Social and Managerial Implications," (Gupta et al, Innovations in Social Marketing and Public Health Communication: Improving the Quality of Life for Individuals and Communities), Abington undergraduate researcher Christina Sesa assisted Gupta in comparing and contrasting decision making in BoP households to those in western societies.
Unlike many western societies, the BoP household generally includes in-laws and other extended family members who are highly involved in every purchase.
"The BoP have limited funds and buy in small quantities on a daily basis," Gupta said. "In BOP households the most literate person makes the purchase. It could be a child, a parent, an uncle."
Findings from this study carry ethical and marketing implications for companies targeting the BoP and highlight the importance of revising marketing strategies to fit their needs. It also contributed to the literature on transformative consumer research (TCR), which advocates helping the poor become better decision makers by customizing information to fit their cognitive and emotional abilities.
In "An Exploratory Investigation of Deal Proneness at the Bottom of the Pyramid," (Gupta et al, Academy of Marketing Studies Journal), Abington undergraduate researcher Caitlin DenBleyker assisted Gupta. Consumer companies spend a lot on deals such as price reductions and buy one, get one free offers, but BoP consumers don't take advantage of them.
The findings offer insights for marketing managers. There are two dominant patterns in deal proneness among the BoP consumer: First, a low level of deal proneness, and second, when the consumer is open to deals, they must be specific. Why?
"They are not aware of these deals. They can't read so the store owner can withhold information because he doesn't want to offer it," Gupta said. "So deal proneness is at low levels yet companies are spending all of this money and not achieving their goals."
Gupta also co-authored two separate but related studies: "The BOP Consumer's Ethical Evaluation of Target Marketing" (Gupta et al, Journal of Global Scholars of Marketing Science); and "The Influence of Marketing on Consumption Behavior at the Bottom of the Pyramid" (Gupta et al, Journal of Consumer Marketing).
Growing up in a high-rise building in Kolkata (formerly Calcutta), India, overlooking some of the world's poorest consumers — the BoP — left an enduring mark on Shruti Gupta.
"Our building was surrounded by slums; it's the norm of the landscape," she said. "I walked to school with a girl who lived in the slums. Picture a family of seven living in one small room. That image stayed with me."
Years passed, and after earning her doctorate, Gupta learned more about BoP consumers at a conference in South Africa. It compelled her to reconsider her childhood environment through the lens of research.
During a sabbatical, Gupta spent a month in Mumbai, India, interviewing consumers, which was supported by a Penn State Abington Career Development Professorship. She can easily demonstrate how the decade spent on BoP benefits students at Abington. Gupta can teach course content such as emerging markets, ethics, and influences on consumer behavior in a more relatable way.
+++++++++++++++++++++++++++++++++++++++++++++++++++++++
Penn State Abington, formerly the Ogontz campus, offers baccalaureate degrees in 18 majors at its suburban location just north of Philadelphia. Nearly half of our 4,000 students complete all four years at Abington, with opportunities in undergraduate research, the Schreyer honors program, NCAA Division III athletics, and more. The Lions Gate residence hall will open in August.