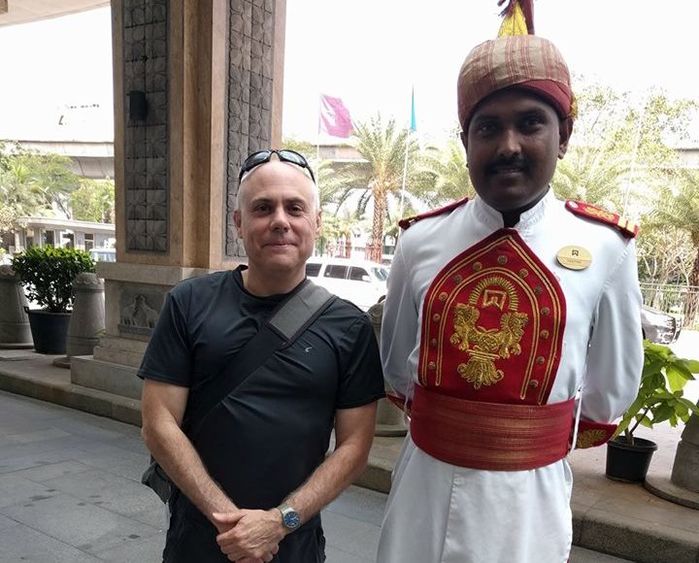 ABINGTON, Pa. — Two Penn State Abington faculty members spent spring break in Nepal and India on an exploratory trip to develop an information sciences and technology course that includes a required short-term study abroad component.
Joseph Oakes and Bharat S. Rawal, both information sciences and technology (IST) faculty, visited:
The Indian Institute of Technology Madras, the leading public university and Penn State's global engagement network partner in India. They met with the dean of the Department of Chemical Engineering, International & Alumni Relations.
Tribhuvan University, the oldest and largest public university in Nepal, and met with the acting dean in the Institute of Science and Technology.
Kathmandu University, the largest private university in Nepal, where they met with the head of the Department of Computer Science and Engineering.
Oakes and Rawal are developing a course for Abington IST and computer science students. They would be paired with Nepali students to perform collaborative applied technology/cybersecurity projects. Through paired interaction, they will be exposed to different cultures, observe different ways to perform work tasks, and form international relationships.
According to Dolores Arevalo, coordinator of the Office of Global Programs at Abington, Oakes and Rawal needed in-depth knowledge for the international component of the course.
"That includes assessing safety, accommodation, and transportation possibilities and limitations; educational links through host universities; and social and cultural connections that would be available to our students," Arevalo said.
Oakes and Rawal explored ways for Abington students to interact with those on the host campus through joint classes and projects and made connections with faculty at these institutions. They plan to examine other options such as conducting joint security research and web security development projects; organizing lectures, symposia, international meetings, conferences, and workshops; exchanging researchers and students as well as information, teaching materials, and technological and scientific publications.