Public book event set for Oct. 21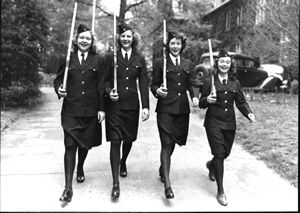 ABINGTON, Pa. — Penn State Abington evolved over the last 100 years from an elite finishing school for girls — such as the legendary Amelia Earhart — into one of the most diverse baccalaureate colleges in Pennsylvania.
Continuing interest in the stories behind Abington College led faculty member Frank D. Quattrone to develop an illustrated history, "Penn State Abington and the Ogontz School" (Arcadia Publishing), celebrating 100 years of education at the current location.
The Abington Cultural and Community Events series invited Quattrone to share the fascinating stories he uncovered while researching the book. He will speak at 7 p.m. Friday, Oct. 21, in the Lares Building on campus, and the book will be available for purchase. The free event is co-sponsored by the Old York Road Historical Society.
With just a few short months to research the history, Quattrone spent hours in the campus' archive room with Amelia Earhart looking over his shoulder — photos of her, letters she wrote, and her report card, as well as books and articles about her, fill bookcases there. Archivist Lillian Hansberry guided him as he plowed through several hundred photos, class books, and other materials.
The nearby Old York Road Historical Society, led by president David Rowland, proved to be a treasure trove of information, and Quattrone spent time there as well.
There were many chilly hours, too, in Hillcrest, once the dean's residence and now a storage site. There he found photos, negatives, old school records, and all sorts of memorabilia.
"Here I was in the dead of winter, fingering moldy boxes and chilly file cabinets in dusty corners of various rooms searching for photos and articles of value," Quattrone recalled. 
"Finally, using my research notes and information gleaned from various printed and online sources, I was able to assemble a coherent history," he said.
Royalties from book sales will be used to fund endowments benefiting Abington students.
Contact the Ogontz Archives at Penn State Abington for more information about the campus' history. Copies of "Penn State Abington and the Ogontz School" are available from Arcadia Publishing.