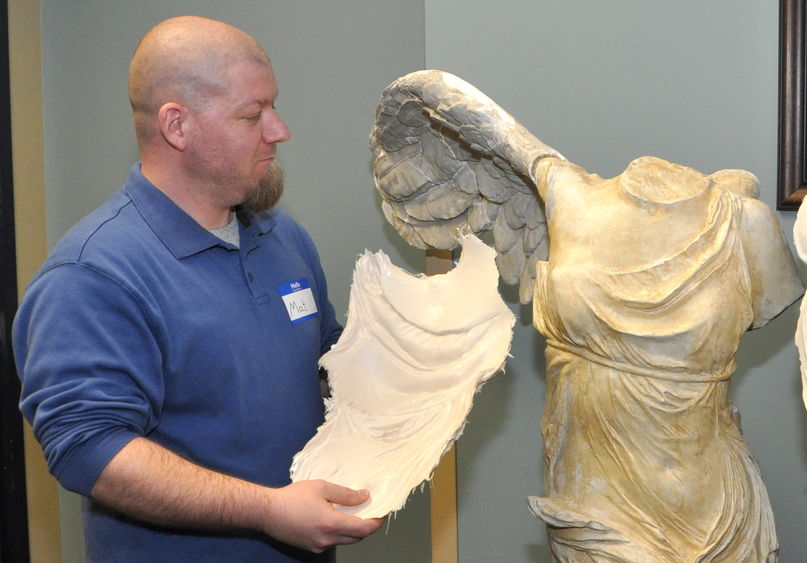 ABINGTON, Pa. — Even in pieces amid the dust and debris of the ceramics studio at Penn State Abington, the statue retains a measure of its past grandeur. Rescued last winter from a temporary perch in the library, a replica of the Winged Victory of Samothrace is being completely restored.
Art faculty Chris Bonner saw potential in the decaying sculpture — an opportunity to research its history, to teach his students about contemporary mold-making, and to repair the old statue.
With art majors Hailey Rei Salamone and Mat Shetler, Bonner directed an undergraduate research project to restore the statue. Shetler spent 40 hours steam-cleaning the sculpture. The wings, badly broken, were stabilized. The team glued loose pieces of the wing to the frame.
Bonner, a former mold-maker at the Fonthill Castle and Moravian Pottery and Tile Works in nearby Doylestown, made a brush-rubber mold of the bust and created another mold on top of that to replicate the process of restoration.
There is much work ahead, but Bonner and his students are thrilled at the progress they have made and look forward to bringing the statue back to life.
The original Winged Victory, housed in the Louvre in Paris, dates to the second century B.C. Its sculptor remains unknown. But the power of the sculpture, discovered in 1863 in Turkey, remains intact. Standing on a pedestal in a pool of water overlooking the Sanctuary of the Great Gods on the island of Samothrace, as if it were on the prow of a ship, it celebrated a naval victory.
Even without the head and arms of the goddess Nike, the dramatic posture, the forward thrust of the body, and the drape billowing in the unseen wind both move and inspire.
This was the intention of Abby Sutherland, principal and owner of the Ogontz School for Girls, when she purchased the statue 100 years ago. It was made by Boston's P.P. Caproni & Brother, which fashioned and sold exacting plaster copies of sculpture masterpieces to schools and colleges throughout the country. Sutherland placed it at the end of a long corridor in the first home of the Ogontz School in Elkins Park.
She positioned it next to a long mirror so the young women enrolled in the school might be encouraged by the "noble marble ideal of womanhood." Its impact was such that the class of 1931 chose it as the class symbol. In turn, she gave each member of the class a small replica of the Nike of Samothrace.
When Sutherland moved the Ogontz School to its present location, now Penn State Abington, in 1917, the statue came with her.