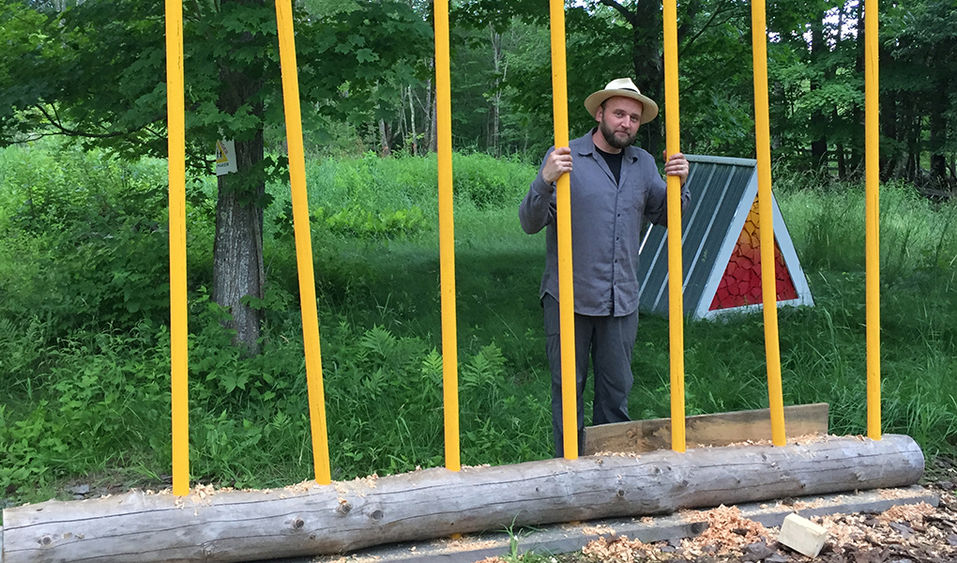 ABINGTON, Pa. — Penn State Abington has partnered with artist David Buckley Borden to create a temporary public art installation through Penn State's Campus Arts Initiative. It will present a visualization of data surrounding climate change with Abington students engaging in the outdoor sculpture's development process.
The Data Decision Trees project combines art, science, environmental design and data, which will ultimately tell a story of environmental degradation, remediation and challenges. The colorful abstract sculpture will feature a series of trees, inspired by the wooded Abington campus. 
Students in the psychological and social sciences, biology, and art disciplines are working with Borden, according to Associate Professor of Art Yvonne Love.
"Students are developing and interpreting data sets, helping with fabrication and installation, and creating interpretive materials, all surrounding the global challenge of climate change," she said. "My colleagues have widened the web and scope of the project by including several local nature centers in the conversation and including this fall's installation process into their curriculums."
Students are developing a coordinated social media campaign and a website to feature information about the sculpture, the ecological data embedded in the work, and local partner organizations.
"Our hope is that through student engagement, the piece will reflect our diversity, develop cross-disciplinary programming, and connect our community through process and research surrounding this global challenge," Love said.
Community and student engagement began early, facilitated by the artist search and site visits.
"One of the most gratifying parts of teaching is to share and expose students to new ideas and witness their learning and deepening understanding. David's first meeting with the students was just that," Love said. "Students at first were unsure of how to engage or know what their role might be, but to see them smile and understand that they would be part of the process, was a pleasure to watch unfold."
For his part, Borden wants the students to embrace the results of this process.
"I hope the participating students walk away with a better understanding of their local environment and are ultimately inspired to take action in service of its stewardship," he said.
Borden is a Massachusetts-based interdisciplinary artist and designer. Using an accessible, often humorous, combination of art and design, he promotes a shared environmental awareness and heightened cultural value of ecology. Informed by research and community outreach, his work manifests in a variety of forms, ranging from site specific installations in the landscape to data-driven cartography in the gallery. 
The Campus Arts Initiative is a project of Penn State's Strategic Planning Seed Grant program. The initiative has commissioned eight site-specific visual artworks for high-impact locations across the Commonwealth Campuses between 2018 and 2020. Each project will result from a collaboration between a selected artist and a partner host site. The Abington initiative also is supported by the Office of the Chancellor.
About Penn State Abington
Penn State Abington provides an affordable, accessible and high-impact education resulting in the success of a diverse student body. It is committed to student success through innovative approaches to 21st century public higher education within a world-class research university. With 3,500 students, Penn State Abington is a residential campus that offers baccalaureate degrees in 21 majors, undergraduate research, the Schreyer honors program, NCAA Division III athletics and more.