Abington's Capelotti pens 20th book on history, archaeology of polar exploration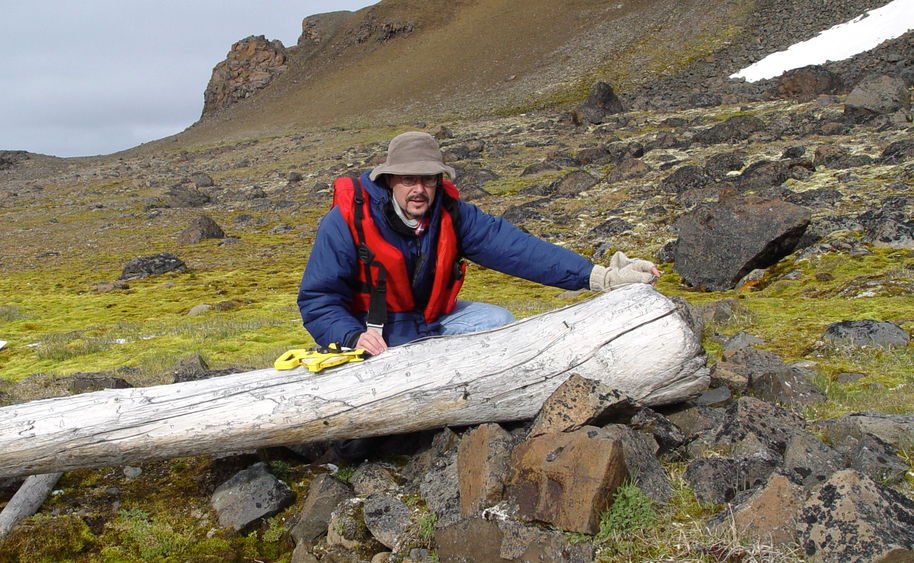 P.J. Capelotti, professor of anthropology and Penn State Abington's resident explorer, chronicles three failed American expeditions to the frozen north in his new book, "The Greatest Show in the Arctic: The American Exploration of Franz Josef Land, 1898–1905."  His 2.5 pound, 624-page 'baby' details a three-ring circus of personalities, politics, and economics in the late 19th-century scramble to be first at the geographic North Pole.
"No one had yet taken up the challenge to write about the American experience in the Russian archipelago of Franz Josef Land," Capelotti said of his book, which he developed over more than 20 years. "Most histories and biographies on this era in exploration focus on Robert Peary or Frederick Cook and, even if someone had attempted it, most of the journals, diaries, and letters were only available in the last 10 or 15 years."
Because the American explorers needed so much international, and especially Scandinavian, help with their plans, Capelotti's research led him to relevant documents housed in Norway, Sweden, and Denmark, as well as England and Russia. He also accessed archives at Dartmouth College, the Library of Congress, the National Air and Space Museum and others scattered from Missouri to Martha's Vineyard.
As a result, Capelotti was able to develop a comprehensive history that describes and explains what went right and so spectacularly wrong.
The Greatest Show in the Arctic tells the story, as one reviewer wrote, "of noble intentions, new inventions, and epic miscalculations."  Capelotti assembles a colorful cast, including Walter Wellman, a Chicago journalist and social climber running from debts, his mistress, and an illegitimate daughter; Evelyn Briggs Baldwin, an unstable meteorologist obsessed with balloons; and Anthony Fiala, a pious photographer in search of God in the Arctic. 
These men and women, despite their limitations and often battling near-impossible conditions, accumulated considerable geographic knowledge and left a legacy of place-names that provided the author, his Abington students, and experts worldwide material to further their research.
Today, the Franz Josef Land archipelago increasingly shows the effects of climate change. Broken skis and other items from a century ago surface as the snow and ice melts, Capelotti said.
After four decades of research, 20 books, and two successful expeditions to the North Pole, Capelotti said the book is "the final statement of my career as a polar researcher." 
The expeditions, he discovered, foundered chiefly because of poor leadership and internal friction, not for lack of funding as previously suspected. Across many years of writing, Capelotti saw these failures of American leadership reflected in his personal experiences as well.
"I've spent nearly 40 years as a student, grad student, and now professor, years that included more than two decades in the U.S. Coast Guard Reserve. I've had the opportunity to work with many leaders, both extremely good, horrendously bad, and everything in between," he said. "The expedition members in The Greatest Show had bad leaders and, when you suffer bad leadership as these expeditions did, it becomes a hell on Earth. They were under the most stressful environmental conditions possible and saddled with bad leadership."
"So this is very much an actual history, leavened by my own experiences with leadership," he said. 
Capelotti continues his work in and about the north. The U.S. Department of State this summer asked him to serve as guest contributor for the Our Arctic Nation blog. He discusses Pennsylvania's connection to the Arctic through his work and focuses on an Abington student's research that culminated in a National Science Foundation workshop in Oslo last year. It continues with the dedication of an historical marker this month to one of the state's own Arctic explorers.
Capelotti also has been invited to deliver the prestigious Roald Amundsen Memorial Lecture at the Fram Museum in Oslo, Norway, in December.
Follow him on Twitter at: @PJCapelotti.