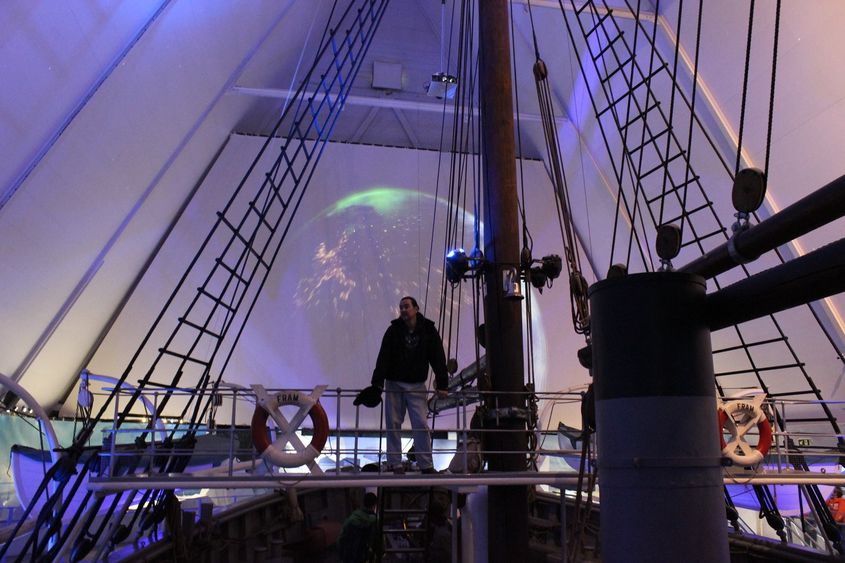 ABINGTON, Pa. — P.J. Capelotti, Penn State Abington's resident explorer and research associate of the Polar Center at Penn State, delivered the fifth annual Roald Amundsen Memorial Lecture on Dec. 3 in Oslo, Norway. The lecture commemorates the life and achievements of Captain Amundsen, the leader of the Norwegian expedition that became the first to reach the South Pole on Dec. 14, 1911.
Capelotti's lecture, "Polar Opposites: American and Norwegian Voices in the Exploration of Franz Josef Land," covered the planning and execution of the Wellman Polar Expedition of 1898-1899. The presentation continued Capelotti's long association with the history of exploration and Scandinavia. Last fall, he spoke at the first Thor Heyerdahl Memorial Lecture at Pacific Lutheran University in Tacoma, Washington.
The Amundsen lecture series organizers invite experts from around the world to share their research at the Fram Museum in the capital city of Oslo. The space houses the Fram polar expedition ship that carried Amundsen and his team to Antarctica and Fridtjof Nansen and his crew as they explored the Arctic Ocean. Amundsen's Northwest Passage ship, the Gjøa, is preserved at the same site.
Capelotti, an international expert on polar exploration and professor of anthropology at Abington, recently published "The Greatest Show in the Arctic: the American exploration of Franz Josef Land, 1898-1905." The book serves as the first history of three American expeditions that attempted to reach the North Pole from an archipelago north of Russia. It followed his 2013 volume on the first British explorer to explore these same islands, "Shipwreck at Cape Flora."