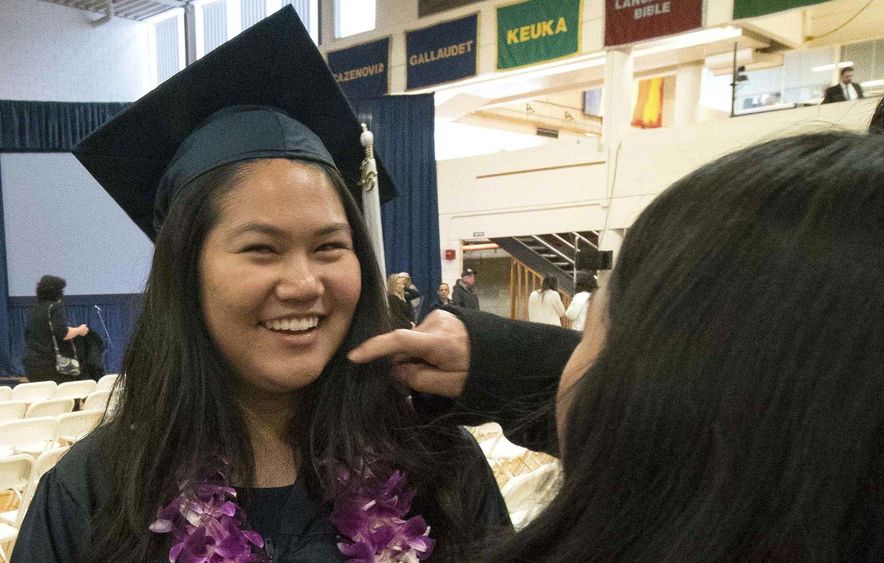 ABINGTON, Pa. — Rain supposedly brings good luck on wedding days, so if the same applies to graduation, the Penn State Abington class of 2016 — the largest in the campus' history — may be its luckiest. The daylong downpour didn't diminish the joy as families, friends and the campus community celebrated:
380 new graduates;
Five valedictorians;
Fifty-five students who graduated with honors or in the top 12 percent of their class, the most in Abington history;
The first group to leave with bachelor's degrees from the Penn State College of Engineering while remaining in the Philadelphia area;
Four students earned concurrent degrees in business plus either corporate communication, information sciences and technology, and two students in accounting;
Five Schreyer Honors College medal recipients.​
"Together, we created a harmonious blend of diverse cultures, beliefs, languages, and ideas — a blend that proves tolerance and acceptance of all leads to amazing things both in and out of the classroom."

-- Victoria Ricci, co-valedictorian
In addition to academic bragging rights, the class of 2016 included:
Two pairs of brothers and two pairs of twin sisters;
Elizabeth Janoski, who took home $50,000 on "Wheel of Fortune College Road Trip" a few weeks ago;
Two students who will be commissioned as second lieutenants in the Army this month;
A group of student-athletes who were the first to compete for Abington as an NCAA Division III member for four years.​
"You will face many changes in life and, the challenge is how you respond and adapt. Remember the three Cs: Choice, chance, and change. Sometimes you need to make the choice to take a chance or your life will never change."

-- Lorraine Basara, commencement speaker and 1975 Penn State alumna
See more photos from Abington's spring 2016 commencement on Facebook.