Candid advice from recent grads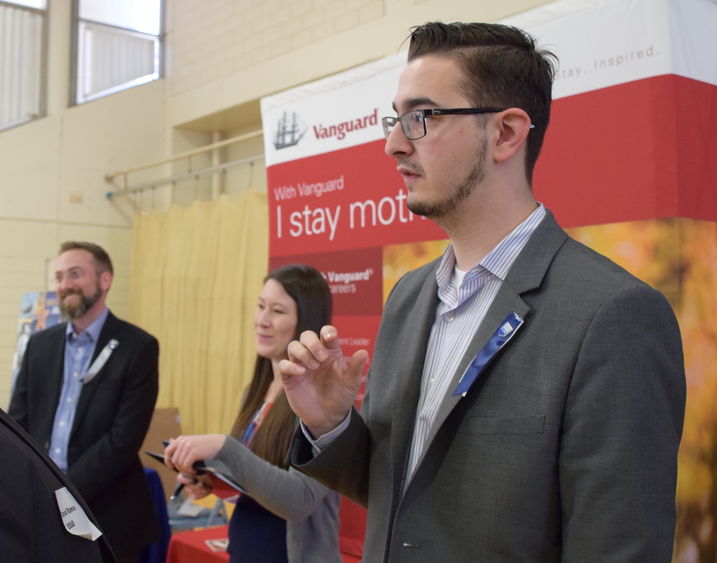 It's an informal Penn State Abington tradition for graduates to support current students on their career paths so alumni frequently recruit through the Abington Career Development Center. Meet three recent alumni who shared advice for success at the spring career expo.
Who: Allan Huston, 2013, Information Sciences and Technology (IST)
Huston's Career Path: Huston interned at the world headquarters of SAP, the software and technology company, in Germany. Hired at financial services giant Vanguard straight out of Abington, he is wrapping up a 24-month rotation in the Technology Leadership Program. "I'm now more focused on the business side, but I bring the technology expertise to the table," he said.
Influencers: IST faculty. "Since the environment at Abington is so hands on, I spent more time with my professors who challenged me to continue to grow as well as learn from my peers."
Interview Prep: "A well-crafted resume articulates your skills. When interviewing, make sure to ask questions that showcase your interest and knowledge about the organization."
Advice: "Take advantage of opportunities to differentiate yourself early in your career, both professionally and academically." 
Who: Carole Boyle, 2013, Corporate Communication and Business
Boyle's Career Path: Two internships, at a nonprofit and a public relations firm. "I learned that working at PR agency wasn't for me, but it led to an even better opportunity with the SAP marketing engagement team. I gained exposure to consulting, and it prepared me for my current position."  Boyle works as a marketing content strategist at Source One Management Services.
Influencers: Ross Brinkert, associate professor of corporate communication. "I don't think I can emphasize enough how helpful Dr. Brinkert was so early in my professional career. I didn't start out as a corporate communication student. When I declared my new major, I was confused and nervous. Dr. Brinkert, as he has done with countless other students, made time for me and gave me great advice."
Interview Prep: "Abington is well equipped with fantastic career services that helped me develop a solid resume, and I learned to answer interview questions. Karen Carli in Career Development provided me with fantastic advice: Highlight accomplishments on your resume, not just your job description."
Advice: "Internships are crucial. It gives you the opportunity to feel out a particular field and provides foundational skills. It's okay to pursue positions that you don't have direct experience doing. Learn how to translate the experience you do have into how it can apply to the position you want. Articulate this in your resume and the interview." 
Who: Kevin Heilig, 2009, IST, business minor
Heilig's Career Path: Heilig, a nontraditional student, traveled to Germany for hands-on or embedded week of a course. Later, Vanguard selected him for an internship program. "I treated it like a 10-week interview. It was because of the exposure I gained that I was offered a full-time position." He started at Vanguard as a developer and then moved into project management. 
Influencers: Joe Oakes, senior lecturer in IST, whose course required Heilig and his class to travel to Germany.
Interview Prep: "A well-constructed resume with relevant and current content shows an applicant values organization and structure. It's very easy to spot applicants who have prepared, and they are surely going to advance further than those who don't. Take a few minutes to research the company, create some questions and work on your elevator speech."
Advice: "Don't underestimate your communications classes. It's important to hone technical skills, but it's irrelevant if you can't communicate it to your peers. Communication is one of the most important factors I consider when interviewing applicants."