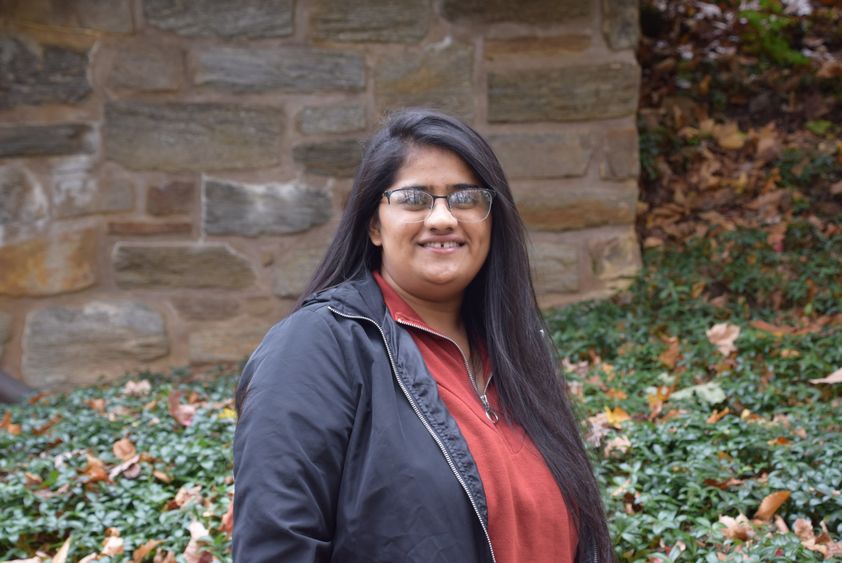 A Penn State Abington student will graduate later this month, a full semester early, with a job in hand at Vanguard, one of the world's largest investment companies.
Iraina Lambe, whose major is Information Sciences and Technology (IST), first connected with representatives from Vanguard at Abington's Career Expo.
"I didn't think I would get to work or even intern at Vanguard. I talked to someone at the expo about my undergraduate research project and the women's IST club. It was more about, 'Can a Vanguard person come and talk to the IST club?' But I kept in contact with the Vanguard representative," Lambe said.
When the application for Vanguard internships opened, she sent her resume after a consultation with one of the experts in Abington's Center for Career and Professional Development. Internships for credit are required for IST majors.
"Karen Carli was a huge help in shaping my resume," Lambe, a first-generation college student, said.
Once she made it through the application screening, next up was a full day of interviews and activities at Vanguard, and three days later she found out that she would be an intern there for the spring of 2019.
As an application developer, Lambe worked with UK Vanguard, supporting the website on the back end by fulfilling requests or tickets for the site. Along the way, she had support from program and tech managers on the UK team and a program manager for internship.
"They offered us lots of support, advice, and feedback through sessions just for interns. There was even a career expo there for their job application process and leadership programs," she said.
While she was still an intern at Vanguard last spring, she accepted a job offer to enter the Technology Leadership Program in early 2020.
She credits much of her success in college and at Vanguard to people at Abington.
"I made a lot of friends and connected with a lot of important people who I can lean on and get advice from especially IST faculty. They are open to sitting down and talking, and it's a major reason why I was so successful here," Lambe said. "The more you learn about other people's lives the more you can make better decisions. Connect with as many people as you can."
And how do you graduate a semester early in a major as demanding as IST, with its full semester internship and a minor in security and risk analysis?
"It fell into place first semester. I signed up for five classes and then six classes a semester. I took seven courses one semester. Studying was my full-time job, and faculty helped guide me," she said.
Lambe also made the time to undertake an undergraduate research or ACURA project with Maryam Roshanaei, assistant teaching professor of IST.
"We focused on how companies are collecting our data and the security aspect from an average person's point of view. How would you make yourself less vulnerable? We tried to connect the cyber and tech worlds to show the average person that at end of day it all comes from us."
About Penn State Abington
Penn State Abington provides an affordable, accessible, and high-impact education resulting in the success of a diverse student body. It is committed to student success through innovative approaches to 21st-century, public higher education within a world-class research university. With about 3,700 students, Penn State Abington is a residential campus that offers baccalaureate degrees in 21 majors, undergraduate research, the Schreyer honors program, NCAA Division III athletics, and more.