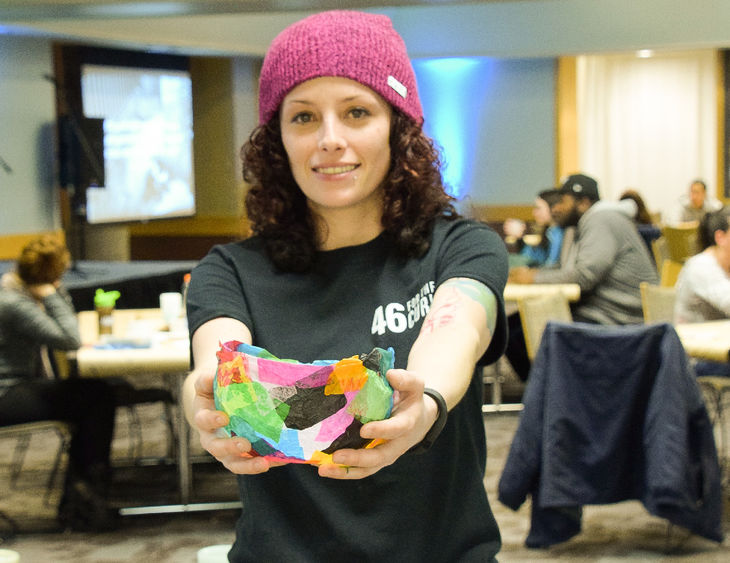 ABINGTON, Pa. — A decade of No Place for Hate (NPFH) programming at Penn State Abington gives the campus community a framework to fight bias. Students expanded its content over the years to include challenges people face such as eating disorders and economic issues that lead to hunger and homelessness.
At the NPFH Empty Bowls dinner, students donated $5 in exchange for a simple meal of bread and soup — more than many people have to eat in a day. They took home bowls made by Chris Bonner, art faculty, or by Kids and Teen College campers as a reminder that hunger exists every day, everywhere.  
At Abington, the first NPFH college campus in the nation, tolerance and diversity are woven in to daily life with support from the Office of Student Life. The campus is one of the most diverse within the Penn State system.
The Abington Nittany Lion joined a Guinness World Records attempt at gathering the most mascots to perform a line dance. It hasn't been certified by Guinness yet. Organizer Mascots for a Cure supports pediatric cancer research.
Two Abington basketball players finished the season with honors from the North Eastern Athletic Conference (NEAC). NEAC coaches voted senior Devin Jones to the men's basketball all-conference team. He averaged 18.5 points per game and scored his 1,000th career point.
Women's players Janaiah Elum and Shayna Rodriguez also earned NEAC all-conference honors for the season. Rodriguez is the first Abington women's basketball player to earn NEAC rookie of the year title. She averaged 17.4 points per game and broke the single-game points record with 40.