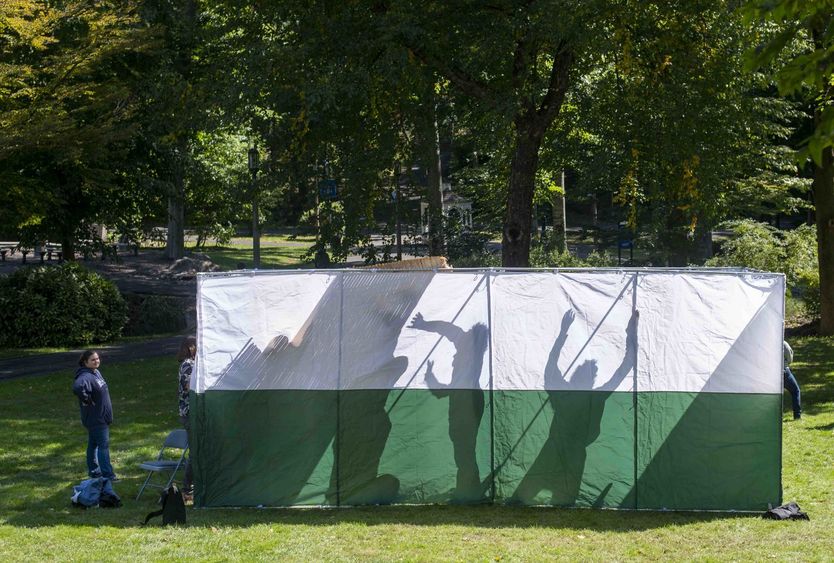 ABINGTON, Pa. — The Penn State Abington campus community, led by students in Hillel, constructed a sukkah to mark Sukkot, the seven-day harvest festival that commemorates the Israelites' wandering the desert following their exodus from Egypt.
A sukkah is a temporary outdoor structure with two and a half or three sides and recalls the huts the Israelites built for shelter. This year, Sukkot begins Oct. 9. 
Hillel's mission is to educate, promote and engage college students in Judaism through meetings, events, and holiday celebrations. The close-knit community is comprised of Jewish students who want to connect with others sharing the same faith as well as students from different backgrounds who are eager to learn about the Jewish religion. At Abington, the organization has approximately 70 students, and membership continues to grow and diversify. 
About Penn State Abington
Penn State Abington provides an affordable, accessible and high-impact education resulting in the success of a diverse student body. It is committed to student success through innovative approaches to 21st-century public higher education within a world-class research university. With more than 3,000 students, Penn State Abington is a residential campus that offers baccalaureate degrees in 24 majors, undergraduate research, the Schreyer Honors College, NCAA Division III athletics and more.