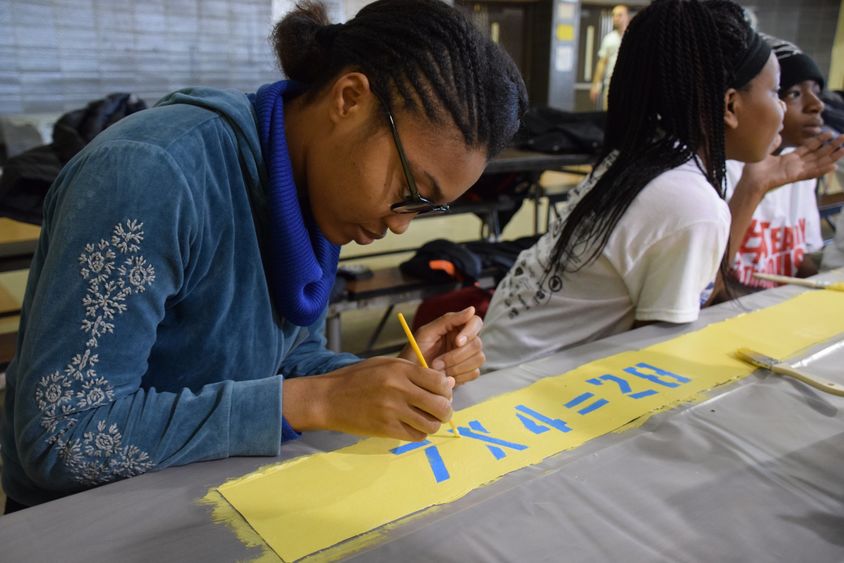 ABINGTON, Pa. — The Penn State Abington community turned out yesterday to honor Martin Luther King Jr. with a day of service. Students ventured into Philadelphia for some projects and remained on campus for others, including training for the University's Stand for State bystander intervention initiative.  
When the 700 students at the Mary McLeod Bethune Elementary School in North Philadelphia returned to class today, a more colorful and harmonious space greeted them. Walls sported freshly painted murals and classrooms boasted new learning aids created by hundreds of volunteers from Abington and City Year Philadelphia.
Back on campus, the Education Club gathered in the Lares Union Building to make fleece blankets and stuff donated purses with socks, bandages, personal hygiene products, coffee cups, granola bars, and cough drops. 
The Office of Student Life tied Stand for State student ambassador training into the day of service. Stand for State is the University's new initiative against stalking, as well as sexual and relationship violence.
Students, including senior Melissa Aguilar, learned intervention methods through a model called Green Dot. 
"We were trained to be an everyday hero for friends and strangers in need. If you see something wrong, do something," Aguilar said. "I'm so proud that students, staff and faculty are willing to give up their free time to do so. It gives me hope for the future."