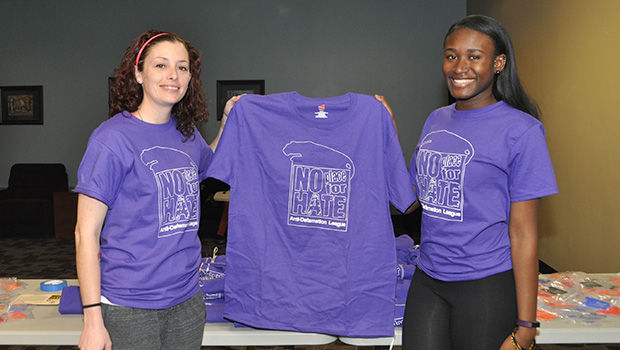 ABINGTON, Pa. — "I firmly believe that one person can make a difference and that no person can be an 'innocent' bystander when it comes to opposing hate. I recognize that respecting individual dignity, achieving equality, and promoting intergroup harmony are the responsibilities of all ..." — Resolution of Respect, Penn State Abington No Place for Hate Week 2017
Penn State Abington, the first "No Place For Hate" college campus in the nation, is one of the most diverse campuses within the Penn State system.
The college recommitted itself during No Place For Hate Week as a place of acceptance and raised the bar by pledging to do more as the United States remains embroiled in turmoil. The campus community participated in activities and interacted with experts.
Programs included "I Am Not My Hair," where students explored and discussed stereotypes about ethnic hair and some students learned how to wear a hijab properly.
Students gathered in front of Sutherland Building for a group exercise "How Privileged Are You?" to help them gauge their privilege economically, socially, and educationally.
In a group session led by Laura Orrico, assistant professor of sociology at Abington, they explored how stereotypes effect them. 
"Stereotypes irk me," one student said.
Keith Brandon, assistant athletic director at Abington, reminded them of the danger posed by conforming to stereotypes.
"You can't lose your identity because some day you will wake up and not know who you are," he said.
Speaker Larry J. Walker, an educational consultant and mental health advocate, closed the week with a discussion called "Words Matter: How Political Discourse Contributes to Feelings of Alienation Among Subgroups and Negatively Impacts Student Mental Health."
"How we choose to address these issues will determine our nation's future," Walker said.
He urged the students to consider their responsibilities and to carefully vet the news: "How does the current political climate impact subgroups at post-secondary institutions? As yourself, what role do I play in making sure this is No Place for Hate?'
Walker suggested that students pay close attention to headlines and subtitles and cross-reference stories even if they are from respected news sources.
The event was sponsored by Counseling and Psychological Services and the Offices of Student Life and Diversity, Equity & Inclusion.
No Place For Hate Week ties into the University initiatives "All In at Penn State: A Commitment to Diversity and Inclusion" and the Stand for State bystander intervention program.
Penn State Abington, formerly the Ogontz campus, offers baccalaureate degrees in 18 majors at its suburban location just north of Philadelphia. Nearly half of our 4,000 students complete all four years at Abington, with opportunities in undergraduate research, the Schreyer honors program, NCAA Division III athletics, and more. The Lions Gate residence hall will open in August.