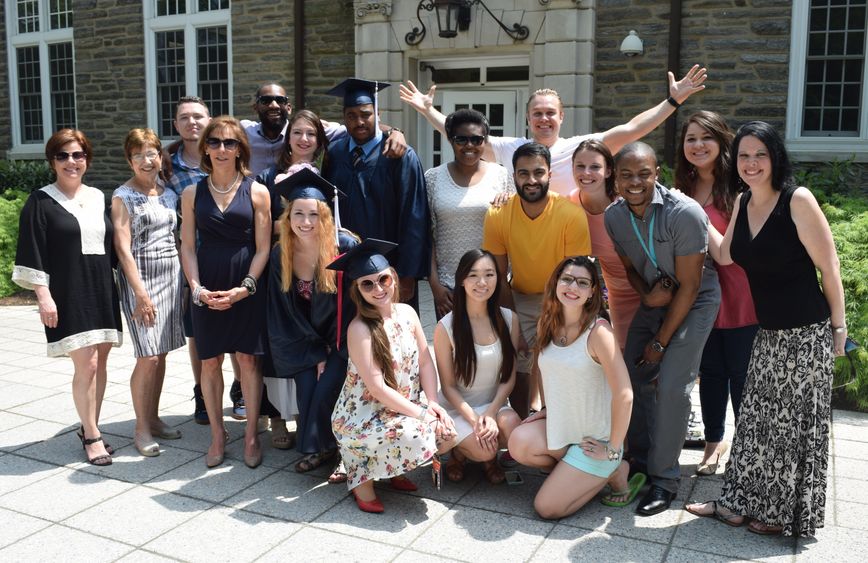 It seemed fitting that the largest class ever to graduate from Penn State Abington had more than one outstanding student as commencement speakers. The two women reminded the 300-plus members of the Class of 2015 to treasure the emotional roller coaster of college.
"We do not deny the struggles, the sleepless nights and the many, many times where giving up seemed to be the best option," Maggie Artica, a psychology major, told the audience. "But it's all worth it now that we're here, graduating together, and having this moment witnessed by our loved ones and the faculty."
Co-speaker Jessica Schmidt quoted Dr. Seuss, urging her classmates to go off to great places and conquer mountains. 
"Take a stand for something — ANYTHING," the childhood and early adolescent education major, said grinning broadly. "Don't be afraid of the word 'no,' instead use it as motivation because one day it will be a 'yes.'"
State Rep. Madeleine Dean (Democrat-District 153), the guest speaker, urged graduates to balance the scales between résumé virtues — achieving wealth, fame and status — and eulogy virtues — kindness, bravery, honesty and faithfulness. She said she was inspired by the book "The Road to Character" by David Brooks.
The Class of 2015 was studded with students already mastering the challenge Dean put forth including these three Schreyer Honors College medal recipients for scholarship, integrity of purpose and intellectual curiosity:
-- Olabisi Akinmorin, biology. Thesis: "Improving the Primary Healthcare System in Bauchi, Kaduna, and Lagos" analyzed the legal and social impact of Nigeria's national health care system on three of its states. 
-- Konstantinos Mavrakis, business. Thesis: "A Game of Presence, Complexity, and Money: An Analysis of Professional Soccer Players' Twitter Use During the 2014 FIFA World Cup" shed light on the challenges faced in using social media professionally.
-- Jillissa Prentice, childhood and early adolescent education. Thesis: "Multiculturalism in Picture Books" analyzed diversity in summer reading list content for young children in urban and suburban schools including ethnicity, roles and occupations, portrayals of heritage, values and family life.
The Class of 2015 also included Samir Glenn-Roundtree who completed degrees in dual majors, criminology and sociology as well as 36 others who graduated with honors.
After Abington Chancellor Karen Wiley Sandler bestowed the degrees and honors, student speaker Judith Dale announced the Lion Heart Award, given to a faculty or staff member annually by the graduating class.
One of the student nominators hailed winner Lisa Morris, senior instructor of criminal justice, for "challenging our pre-existing beliefs and pushing us to consider realities outside of the comforts of our own lives — an impact that will remain with us long after we leave Penn State."
Jessica Schmidt, who defined the term student athlete at Abington, summed up her feelings, "These past four years have been the most trying, but almost the most rewarding, four years of my life. I couldn't be happier having Abington as my home."
See more images from Abington commencement on Facebook at Penn State Abington.