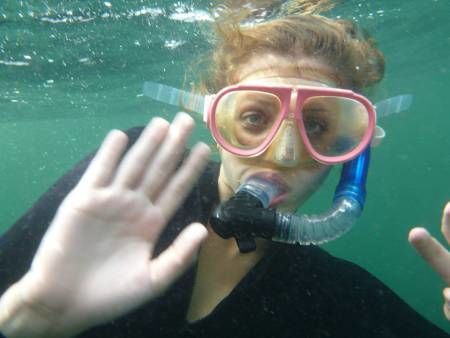 Colleen Kelsey decided last week, with commencement only hours away, that she needed to process her experiences during the last four years.
She was exceptionally busy at Penn State Abington. A science major, she threw herself into academics and campus life, serving on event programming and production teams and as an orientation leader. Colleen studied in Panama and plans to enroll in graduate school to earn a master's degree in conservation.
Here are excerpts from Colleen's post on the Lions Tales student blog:
I am graduating and finally took time to reflect on the last four years as well as on my future. So I came up with a letter … a letter to myself when I turn 30:
Hey, Col!
So you are the big Three O! I hope you're living the life your 23-year-old self was imagining. I am writing this only days away from probably the biggest moment of my life at this point, college graduation. I whipped up a few things I hope you still remember about college because it probably made a huge impact on the person you've turned out to be.
In college, you learned:
-- You can't make everyone happy. It's okay to try, but sometimes it's about you.
-- You aren't afraid of anything. I hope that in 10 years, 50 years, you still aren't afraid to take chances. Don't stress the small stuff, you've got this!
-- Things work out for different people in different ways. You can learn perspective from others, but take advice with a grain of salt and do what you think is best.
-- People make the experience. They shape who you are, and you've learned something valuable from everyone.
So what do I hope for Colleen now that you are 30?
-- … that you are eating better. Ramen was cheap, but you deserve better.
-- … that you have a small home. Life is too short to spend time dusting.
-- … that you earned another degree. Your education has always been super important so I hope you're still learning new things.
-- … you spend time traveling. I hope you finally made it to Greece and Africa and back to Chicago. Volunteer in a place that needs your love and support and travel somewhere to research and explore. Continue traveling!
-- … you are happy at 30. You were happy at 23. Life wasn't perfect, but you owned it. You lived every moment to the fullest and regretted nothing. You were making a difference, and you went to bed finding something to be thankful for each night. I hope that the last seven years treated you well, and you are ROCKING IT!!
With love and confidence, for yourself,
Colleen Noel
State Rep. Madeleine Dean presented Colleen with a Pennsylvania Legislative Citation at commencement for her accomplishments at Abington.
Read the complete post and keep up with other Abington students on the Lions Tales blog: http://pennstateabington.wordpress.com/.
Read about Colleen's experience studying in Panama: http://news.psu.edu/story/300773/2014/01/18/academics/abington-senior-r….