Choi discusses successfully filling a niche need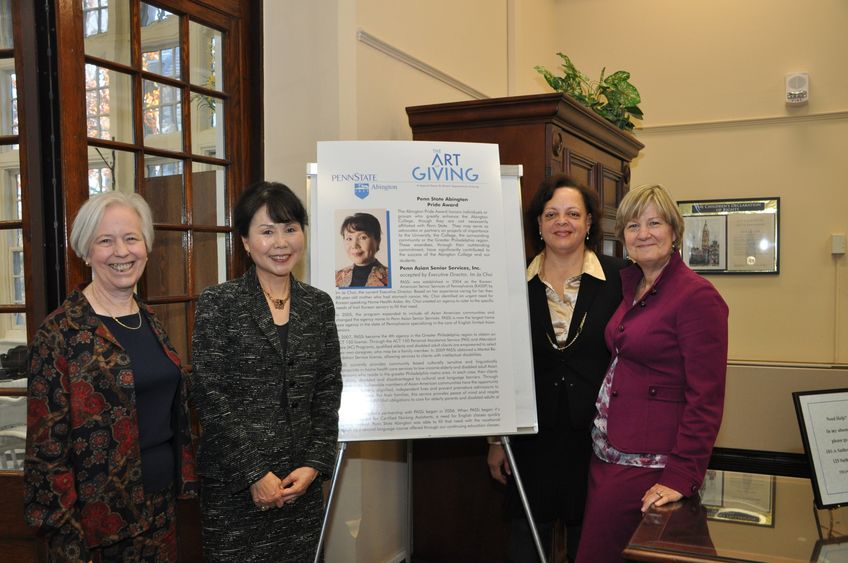 A second career entrepreneur who transformed her family's eldercare dilemma into a solution for seniors throughout the Philadelphia region shared her journey as the Penn State Abington fall 2014 commencement speaker.
Im Ja Choi spent seven months scouring the East Coast for a Korean-speaking aide for her elderly mother. It became apparent there was a wider need for such services so Choi left a successful banking career and founded what is now known as Penn Asian Senior Services Inc. (PASSi). The agency specifically caters to low-income seniors and disabled adults in a variety of Asian communities while offering respite to their families.
"Setting this up, I had no money but a lot of good will and hard work," said Choi, PASSi's executive director. "It was not easy fighting established ways, but I saw a niche need."
Eldercare presents special challenges in Asian cultures where filial piety, or respect and care of parents, is paramount, but economic realities require more and more adults to work. Choi's agency bridges the dueling needs.
"I was inspired to do this for my mother and make difference for my family and others," Choi said.
As PASSi grew, Choi realized that its workers needed vocational English as a second language training. So she connected with the entrepreneurial arm of Penn State Abington: the Office of Continuing Education, which tailored the programming to PASSi's needs.
The nearly decade-long relationship between Choi's organization and Penn State Abington flourished. Choi and PAASi have each received the Abington Pride Award for serving as advocates or partners with Abington on projects of importance to the college, the community and the region.
When Choi accepted the Pride Award several months ago, Abington Chancellor Karen Wiley Sandler remarked, "I have never seen someone so adept at seeing a need, fixing it and fulfilling it."
PASSi is now the largest home care agency in Pennsylvania specializing in the care of English-limited Asian seniors.
In addition to her work with PASSi, Choi serves on the Pennsylvania Cultural Diversity Advisory Council and the Pennsylvania State Advisory Committee of the U.S. Commission on Civil Rights. Stories about PASSi and Choi have appeared in The New York Times and The Huffington Post among others.
For more information on Abington commencement or to view the live stream, go to http://www.abington.psu.edu/commencement.