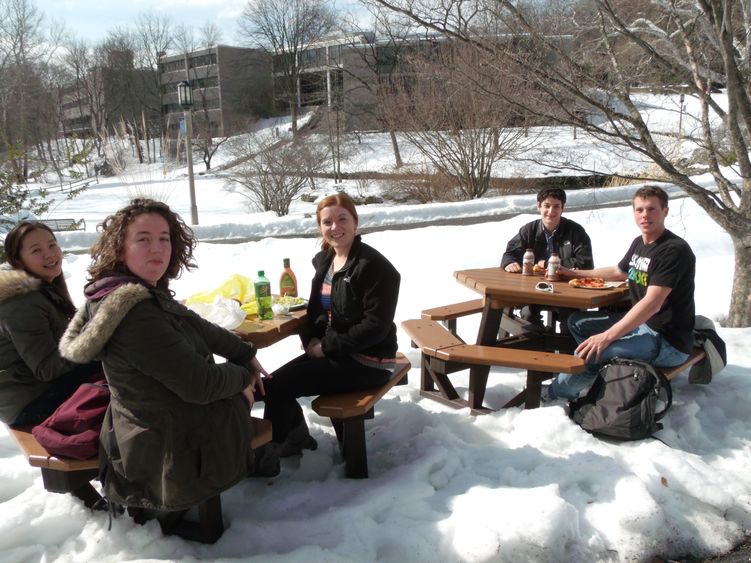 Norah Shultz thought hot chocolate simmering in a pitcher and fake snow would lighten the mood as Penn State Abington faculty discussed the eight class days lost to the weather this semester. But a tornado of flurries mocked the associate dean for academic affairs as she gazed through the conference room's floor-to-ceiling windows.
But Shultz didn't even pause and promptly launched into a refresher course on "coping methods." Also known as alternative content delivery, these options keep faculty and students connected when unforseen circumstances affect the physical campus or individuals.
"We are not planning for a one-time event. We are planning for the future and all sorts of uncertainties," Shultz said. "We need to prepare to shift into other modes."
The other modes include online teaching, journals, blogs, quizzes, database research, and methods that don't require face-to-face meetings. One option, the One Button Studio, is available only to the Abington campus community and a few others within Penn State. One Button is a simplified video system for faculty and students to easily record lectures and presentations.
Joe Oakes, senior lecturer for information sciences and technology, said he habitually records his lectures for emergencies and student review purposes. Video conferencing software also allows real time participation for someone who might otherwise miss class, and faculty can work with individual students through screen capture.
Outside of the faculty meeting, Student Government Association (SGA) president Stacy Wanerman revealed that the SGA, the Student Athlete Advisory Committee, and several other groups are collaborating on an over-the-top stress-busting event next month.
"The snow united student groups that hadn't worked together before," Wanerman said.