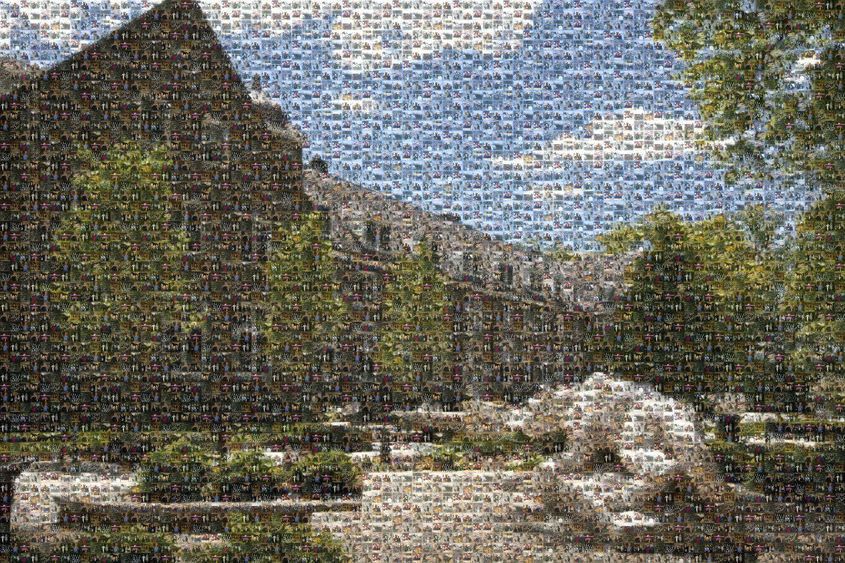 The premise behind the Penn State Abington photo mosaic project is fairly simple: One photograph can make a world of difference to a family whose child is battling cancer.
The project, spearheaded by former Abington THONer and current Abington Development staff member Jill Mensch, will raise at least $5,000 for the 2014 THON. Two hundred photos accompanied by a $25 donation each are needed to reach the goal.
Alumni, students, faculty, staff, families and friends of the college are invited to participate in this permanent celebration of THON and Abington, which will be displayed on campus. When viewing the large image from a distance, it seems like a classic scene of the Lion Shrine and Sutherland Building. But as one approaches, the individual photos of the people who make Abington a home become evident.
The mosaic adds a seek-and-find twist to the long list of traditions, such as stopping at the duck pond, that Abington visitors enjoy. They can gather to examine the mosaic and find images of friends, family and former classmates.
Submissions for the mosaic will be accepted until Jan. 15. For more information, contact [email protected] or call 215-881-7378.
THON is the largest student-run philanthropy in the world providing emotional and financial support to pediatric cancer patients, their families, researchers and staff at Penn State Hershey Children's Hospital through the Four Diamonds Fund. Almost 96 percent of the $12.3 million raised during the 2013 THON campaign went directly to the Four Diamonds.