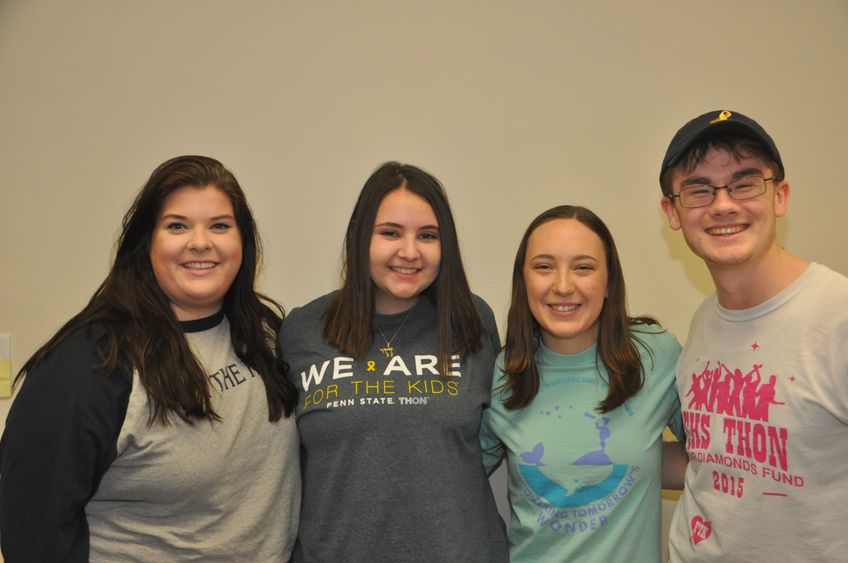 ABINGTON, Pa. — The Penn State IFC/Panhellenic Dance Marathon, or THON, is the largest student-run philanthropy in the world. It raised more than $10 million last year, bringing the total donation to the Four Diamonds Fund at Penn State Children's Hospital to more than $157 million since 1977.
So how do a bunch of college students raise millions of dollars for kids with cancer? Through Penn State organizations like Penn State Abington Benefiting THON. It's serious business with a lot of love and fun in the mix.
Abington is sending four dancers to THON this year. They have to cut out sugar and caffeine and work out while balancing intense preparation with school responsibilities. And they will dance — 46 hours, no sitting, no sleeping — but all Abington THONers organize events throughout the year and rally support so families can focus on their children's health and never see a bill for treatment.
This year's dancers have a combined 14 years of involvement in THON, and the team consists of Shana Bowers, Jenna D'Entremont, Lily Goldberg, and Sean Monaghan.
Bowers, a senior accounting major, knew she wanted to get involved with THON from the moment she transferred to Abington. She has a younger sister with special needs and always volunteered.
"It makes me feel like a better person to help those who need it," she said, noting that she is honored to represent the Abington THON child, Nate.
Goldberg, a kinesiology major, participated in Mini-THON in high school and continued to volunteer for THON at Abington.
"THON motivated me to apply to Penn State Abington. They had my major, too, but socially, I was drawn to THON," the sophomore said. "THON isn't at all like work."
D'Entremont, a junior elementary and early childhood education major, said her family was impacted by cancer and that led her to THON.
"I want to be a teacher and want to help kids any way I can," she said, noting that the THON experience is "indescribably emotional."
The only male dancer in the group is Monaghan, a hospitality management major. It's his fifth year in THON since he, too, participated in Mini-THON in high school.
"I initially started just to get involved, but THON makes me a better person," the sophomore said. "It helps me enjoy college and helped me find my niche. It's life-changing being in THON."
Want to donate to THON? Use this link so Abington will receive credit for your THON donation.
About Penn State Abington
Penn State Abington provides an affordable, accessible, and high-impact education resulting in the success of a diverse student body. It is committed to student success through innovative approaches to 21st century public higher education within a world-class research university. With nearly 4,000 students, Penn State Abington is a residential campus that offers baccalaureate degrees in 19 majors, undergraduate research, the Schreyer honors program, NCAA Division III athletics, and more.