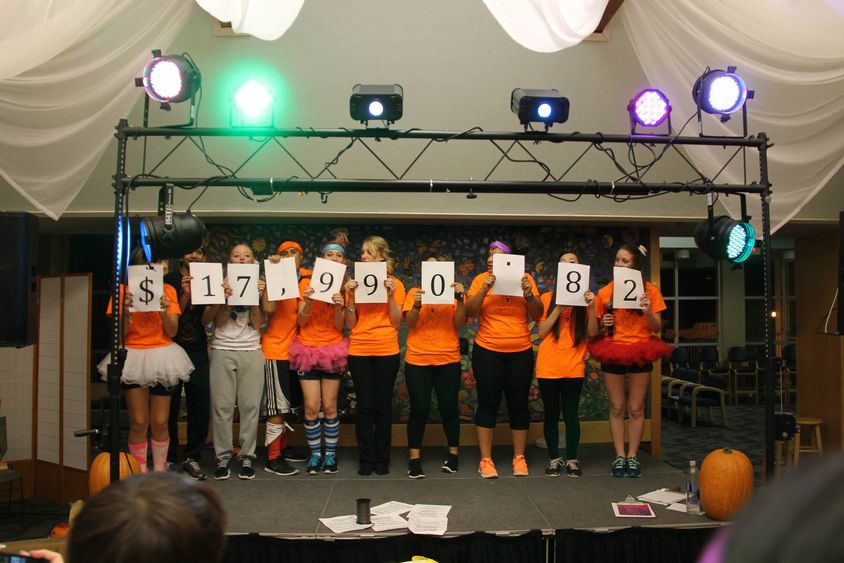 The Penn State Abington organization that sends dancers to the University's IFC/Panhellenic Dance Marathon boosted its fundraising total to $18,000 at the annual Stand Up FTK (For the Kids). Staged by Abington Benefiting THON, the spirit-raising and fund-boosting community event featured 12 hours of nonstop dancing.
Scare Away Cancer was the theme of this year's Stand Up FTK, and tutus and superhero costumes dominated - not very frightening but fun. The event featured live music and dance performances, games, and a silent auction of items donated by area businesses and sports teams.
When Abington students revealed the total at the end of the night - in traditional THON style with dancers turning over cards with each number - the audience included a very special guest and her family. Abington THON adopted a Four Diamonds family, the Chapmans, several years ago. Gabby Chapman was diagnosed with a brain tumor at age 2, and seven years later she is still in remission. Gabby and her family are avid supporters of Abington THON and frequently show their support at events.
In addition to Stand Up FTK and canning, another Abington THON tradition is Pie-In-The-Face. Faculty, staff, and students volunteer to be on the receiving end of whipped cream facials in exchange for donations.
To see more photos from Stand Up FTK and to support Abington Benefiting THON, follow them on Facebook.
The Penn State IFC/Panhellenic Dance Marathon is the largest student-run philanthropy in the world. THON raises funds to fight pediatric cancer. Since 1977, THON has donated more than $114 million for the Four Diamonds Fund at Penn State Hershey Children's Hospital. THON 2015 will take place from Feb. 20 to 22 at Penn State's Bryce Jordan Center. Go to thon.org to learn more.