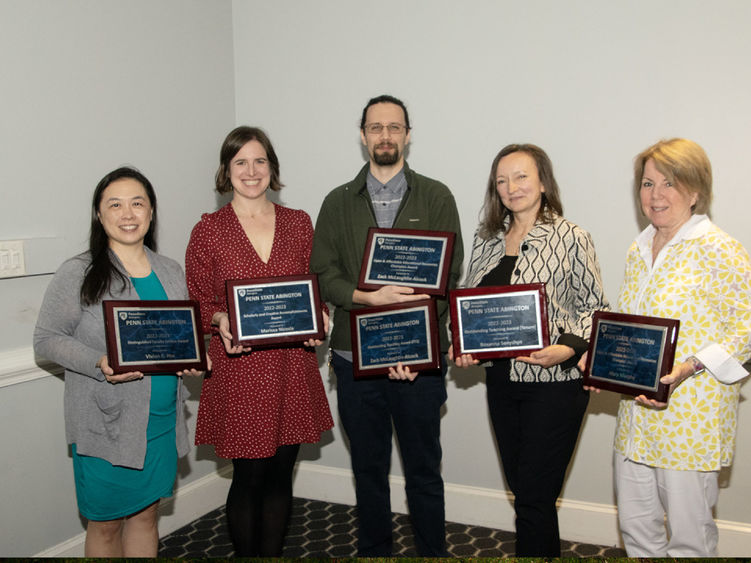 ABINGTON, Pa. — Every spring, Penn State Abington honors faculty and staff for their teaching, research and service to the campus community. This year, 12 people were hailed for going above and beyond during the 2022-23 academic year. 
The Academic Environment Committee at Abington selected the following faculty members as recipients of this year's faculty awards. 
In addition, McLaughlin-Alcock and Mary Murphy, assistant teaching professor of biology, received the Open and Affordable Educational Resources Champion awards.
Staff Advisory Council awards 
Unsung Hero Award: Kate Benson-Ho, administrative assistant, Online and Information Technology (OIT). One nominator said Benson-Ho does her job with professionalism, integrity and humility. Another described her as "the heart of the OIT team and anybody that interacts with her notices it." 

Outstanding Part-time Staff Award: Jamie Davidson, media consultant, OIT. "Jamie's knowledge and dedication has been invaluable and has positively impacted the entire campus," a nominator said. 

Karen Wiley Sandler Collegiality Award: Lisa Morris, assistant teaching professor and program chair, criminal justice. Nominators lauded Morris for being an "engaged faculty member. ... She's very positive and inclusive. Perpetually cheerful, consistently giving of her time and talents, and wholeheartedly invested in Abington, our students, and our mission."   

Jules L. Lear Staff Dedication Award: Matt Chellel, academic adviser. "Matt is an exceptional adviser and takes the time to listen to each student he advises. ... He helps students in making the best academic choices for them," according to his nominators. 

Robert and Margaret Wiley Staff Educator Award: Kathy Carlidge, financial coordinator, Finance Office. Her nominators hailed Carlidge for being "highly knowledgeable and willing to improve others' learning in the workplace. … She does this with courtesy and respect, further building positive relationships." 
About Penn State Abington 
Penn State Abington provides an affordable, accessible and high-impact education resulting in the success of a diverse student body. It is committed to student success through innovative approaches to 21st-century public higher education within a world-class research university. With more than 3,100 students, Penn State Abington is a residential campus that offers baccalaureate degrees in 25 majors, undergraduate research, the Schreyer Honors College, NCAA Division III athletics and more.