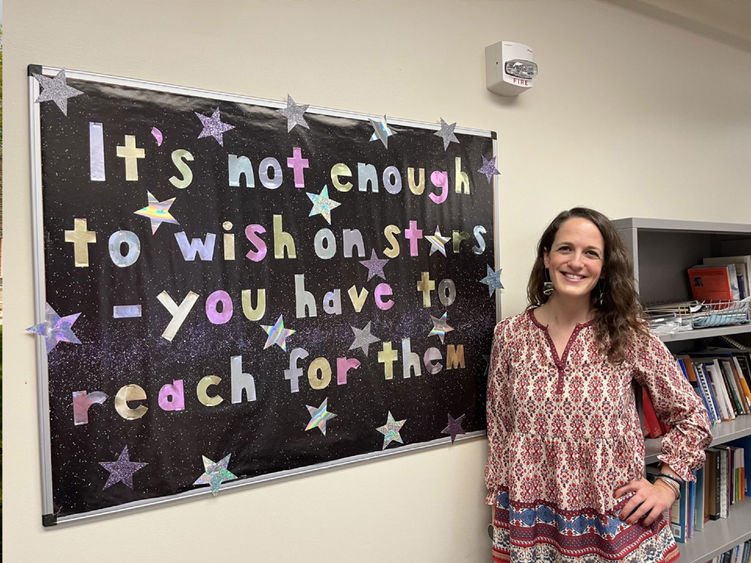 ABINGTON, Pa. — Penn State Abington provides tutoring, writing consultations, workshops, and success coaching at no cost through the Center for Student Achievement (CSA). 
Kaitlin Wolfert, coordinator for the CSA, encourages students to access the center's offerings before they find themselves struggling with coursework or other aspects of college life. Some students are referred to her through the Student Disability Resources office, but many learn about CSA through her class visits and campus promotions. 
"We want to help students develop and grow. The goal of the center is to help students become more successful in the classroom and the world," she said. 
Wolfert explained that aside from tutoring, a variety of sessions are available throughout the semester, including time management, goal setting, and smart study skills. On Jan. 26, she will premiere the monthly Dine and Develop: Goal Setting and Motivation.  
"Dine and Develop is an interactive, self-advocacy workshop over lunch. I will deliver content, but we will also work through journaling and personalized coaching," she said. 
Fall 2022 saw Wolfert's success coaching initiative flourish with 170 appointments throughout the semester. Students complete an intake form, and during an in-person meeting, she empowers them to set one academic and one nonacademic goal. They connect several times throughout the semester to monitor their progress. 
"I check in with the students during these appointments, and I hold them accountable while serving as a personal cheerleader for them," said Wolfert, who hopes to organize a peer success coaching program at Abington.  
CSA also manages in-person and online tutoring options as well as writing consultations. Wolfert reminds students that tutoring is not just for those who are failing or in danger of failing a course.  
"If you have a B and want an A, study with a tutor. They might be able to teach you a different learning strategy to break that barrier," she said. 
Informal student surveys have shown that at the end of the semester, more than half of students in some classes wish they had availed themselves of tutoring.  
"We are not intimidating. We are here to help you grow and build your skills. It's a strength to be able to ask for support," she said. 
We are here to help you grow and build your skills. It's a strength to be able to ask for support.

—Kaitlin Wolfert , coordinator, Center for Student Success
Wolfert's evolution into her role at the CSA began when she was an undergraduate.  
"I attended a social justice session at a conference, and it made me realize that I wanted to be a person who helps students make the world a better place, so I made the decision to pursue counseling in higher education," she said. 
Her broad experience includes roles in disability services, academic advising, student success advocacy, and leadership development at several colleges and universities before arriving at Abington six years ago.  
"I want to help students find themselves and step outside of their comfort zones so they can enhance their lives," she said. 
Students interested in accessing CSA services can review this video, visit their office in 315 Sutherland, or email [email protected]. Workshops also are listed on Engage, the student events platform.
About Penn State Abington 
Penn State Abington provides an affordable, accessible and high-impact education resulting in the success of a diverse student body. It is committed to student success through innovative approaches to 21st-century public higher education within a world-class research university. With more than 3,100 students, Penn State Abington is a residential campus that offers baccalaureate degrees in 25 majors, undergraduate research, the Schreyer Honors College, NCAA Division III athletics and more.