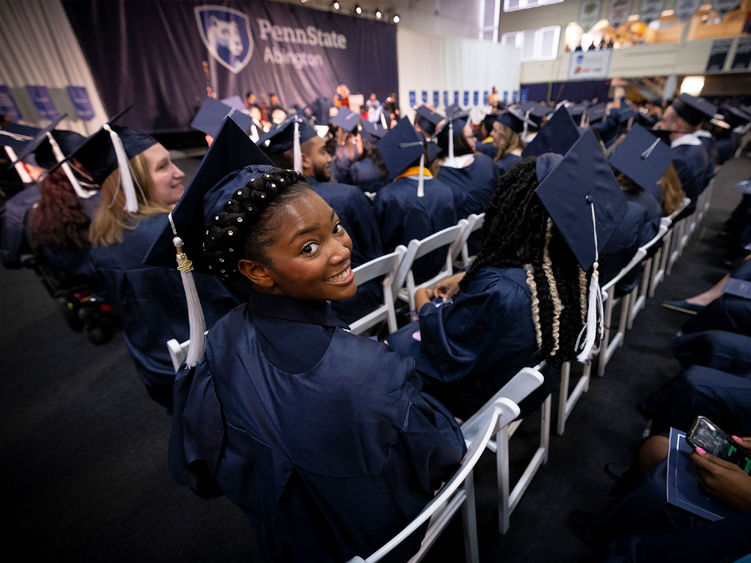 ABINGTON, Pa. — Penn State Abington launched more than 225 new alumni into the world at its summer/fall 2022 commencement exercises with Philadelphia City Councilmember At Large Isaiah Thomas, the keynote speaker, encouraging graduates to "keep the Nittany Lion fight in you." 
"When you see a challenge, tackle it. When you see a problem, use your innovation to solve it, and remember, the reward for good work is more work. Be ready when society calls on you," the 2007 Abington alumnus said. 
"When we come together at Penn State Abington, we become one family. And the Penn State Abington family is changing the world," Thomas said. 
Chancellor Margo DelliCarpini reminded the graduates who gathered with their loved ones in the campus Athletics Building to use the skills they developed building, forming, and nurturing community at Abington in the larger world. 
"Your education was rooted in a set of values: inclusive excellence, academic achievement, and community engagement. Your values and principles will matter in every professional and personal interaction, but just as important, you must challenge yourselves to listen and respect those who have a different set of values," she said. 
"You are persistent and tenacious. These are powerful skills, and you will need to draw on this well of persistence, determination, and grit in an uncertain and rapidly changing world," DelliCarpini continued.  
The student processional was led by honor graduates Sundus Ibrahim and Kseniia Gromova, the summer/fall 2022 student marshals. The student marshal designation is considered an honor by the University in recognition of academic achievement. 
Andrew August, associate dean for Academic Affairs, praised two students for earning dual degrees. Lisa Nevada completed two bachelor of science degrees, one in finance and another in accounting. Meghan Herrigan graduated with a bachelor of arts degree in criminal justice and a second one in psychological and social sciences. In addition, 24 students graduated with honors. 
State Rep. Benjamin V. Sanchez, District 153, presented the Legislative Citation to Matthew Copti, a criminal justice major who was nominated by three faculty members for the special recognition. 
"Mr. Copti truly exemplifies the best qualities of the human experience, and his spirit of progress and dedication has greatly impacted the lives of others. Mr. Copti's commitment strengthens his leadership abilities, to the benefit of Penn State Abington and our community," Sanchez said. 
Sanchez congratulated the Class of 2022 for earning their degrees and "for helping to move society forward through the skills and knowledge you've acquired at Penn State Abington."   
Commencement is always an emotional day, but for Abington faculty and staff this ceremony was doubly noteworthy. There is a long-standing tradition on the campus that when the relative of a faculty or staff member graduates, the faculty or staff member is invited to present the diploma on stage. Andrea Cooper, a housekeeper in Business Services, gave the diploma to her daughter, Adrienne. Adrienne earned a bachelor of arts in integrative arts.  
Applause for the Coopers was followed by loud cheers from faculty and staff when DelliCarpini awarded Alexia Brewster, assistant director of First Year Admissions, her master of business administration diploma. Brewster earned her degree through the Penn State Great Valley School of Graduate and Professional Studies but chose to participate in the Abington ceremony. 
About Penn State Abington 
Penn State Abington provides an affordable, accessible and high-impact education resulting in the success of a diverse student body. It is committed to student success through innovative approaches to 21st-century public higher education within a world-class research university. With more than 3,100 students, Penn State Abington is a residential campus that offers baccalaureate degrees in 24 majors, undergraduate research, the Schreyer Honors College, NCAA Division III athletics and more.