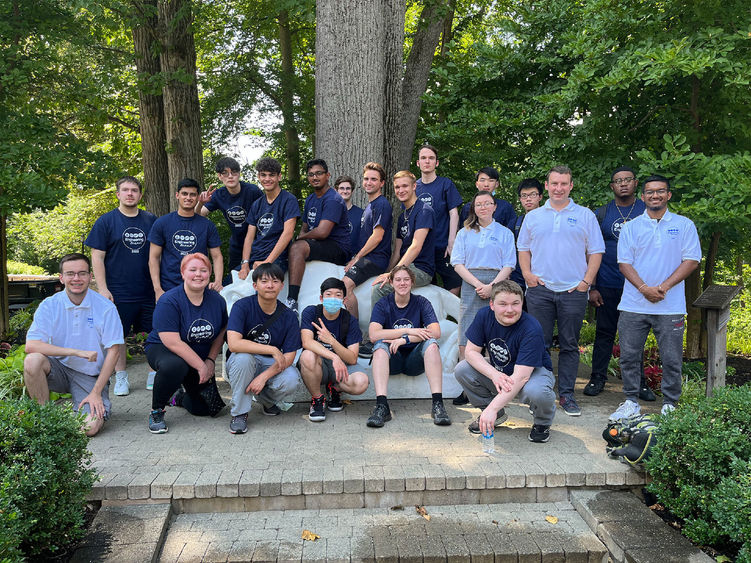 ABINGTON Pa. — Penn State Abington is supporting the next generation of STEM majors through Engineering Ahead (EA), a summer academic enhancement program for incoming first-year students. It is designed to help participants succeed in math and science courses during the critical first semester of college.  
Michael Kagan, associate professor of physics and EA coordinator, said the students invested a great deal of time and effort preparing for the rigors of pre-calculus and calculus while gaining an early introduction to the pace, rigor and social aspects of an Abington education.   
"They met not just friends and peers but like-minded individuals who share their ideas about studies, learning, careers and STEM fields. These are the people they can count on for help during the regular semester," Kagan said. 
The five-week hybrid program included five days of in-person work while living in the campus residence hall, Lions Gate Student Apartments. It featured math boot camps, a metacognition seminar, and networking with Abington faculty, industry partners, and Penn State College of Engineering alumni, including Alyson Farkas, who graduated from Abington in 2021. 
"Engineering Ahead allowed me to gain the confidence I needed and built a great foundation for college, which allowed me to pursue great courses, get involved with undergraduate research, and do well academically," said Farkas, a systems engineer at Lockheed Martin.  
"Engineering Ahead allowed me to gain the confidence I needed and built a great foundation for college, which allowed me to pursue great courses, get involved with undergraduate research, and do well academically."

—Alyson Farkas , Penn State Abington Class of 2021
EA provided the students with the opportunity to leave the classroom and gain some real-world experiences courtesy of Abington alumnus Stephan Zweidler, partner and director of technical sales at the engineering firm Accudyne and chair of the campus Advisory Board. He developed a lecture series for EA and hosted them for a daylong visit at Accudyne's Delaware offices. 
For Nikita Pryanichnikov, a computer science major, the site visit to Accudyne was enlightening.
"We had a discussion at Accudyne about creativity and thinking outside of the box by breaking rules in some ways. When we visited University Park, we met entrepreneurs who succeed at launching their own products with Penn State's support and talked about the benefits of undergraduate research," he said.   
Xavier Salazar, an Arizona resident who followed his passion for engineering to Abington, welcomed the leg up EA gave him as he begins his college career.  
"I made connections with faculty and other students and learned how to approach assignments and what will be expected of me," he said.  
Another student found community at Abington and Penn State. 
"The people here are incredible. The students bonded during the program, and there are exceptional people at Penn State," he said. 
Catherine Cohan, a research associate in the Center for Engineering Outreach and Inclusion at the College of Engineering, tracks EA alumni as they proceed toward their degrees. 
"Students who participate in Engineering Ahead are more likely to have higher grades in math in the first semester and more likely to remain in engineering and STEM majors than others. Your long-term success is set up by how well you do in your first math course," she said. 
The EA cohort includes those from underrepresented backgrounds such as ethnic minorities, women, first-generation college students, and low-income individuals. They receive a stipend of $500 upon successful completion of the program. 
The engineering degree with the multidisciplinary engineering design option (GE-MED) at Abington incorporates advanced coursework in electrical engineering, computer engineering and engineering design to produce innovative engineers specialized in systems design and integration. 
About Penn State Abington 
Penn State Abington provides an affordable, accessible and high-impact education resulting in the success of a diverse student body. It is committed to student success through innovative approaches to 21st-century public higher education within a world-class research university. With more than 3,000 students, Penn State Abington is a residential campus that offers baccalaureate degrees in 24 majors, undergraduate research, the Schreyer Honors Program, NCAA Division III athletics and more.