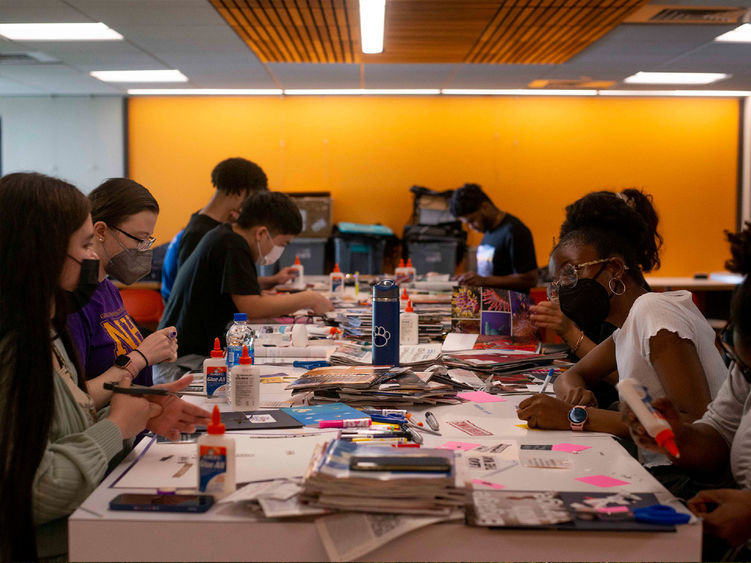 ABINGTON, Pa. — The Sophomore Jump Start program at Penn State Abington provided students who are the first in their families to attend college, and who have not chosen a major, with tools and guidance in planning their future pathways. The residential three-day program was led by the campus Career and Professional Development (CPD) team.  
Kismet Hampton, internship and experiential coordinator in CPD, explained that Jump Start is an "academic and professional career boot camp where students took a deep dive into assessing where they are in relation to where they want to be" by combining self-assessments with creative opportunities such as vision boarding. 
The incoming second-year students took the CliftonStrengths Assessment and the Myers-Briggs Type Indicator, and CPD staff evaluated the results to help them focus on goals for the next year including job shadowing, internships, or choosing a major. 
"The CliftonStrengths Assessment is a talent identification and development tool that helps students discover their strengths. It provides direction so you can pour your time, energy, and gifts into what you do well," she said. 
Meg Glick, case manager in Student Affairs, partnered with the CPD team to organize the immersive program for a dozen students. 
"Sophomore Jump Start is like Career Development 101. It helps the students take ownership of the next year by being proactive," Glick said. 
Lorenny Diaz, who plans to major in business, said the Sophomore Jump Start provided her with confidence in her choices. 
"It gave me closure into figuring out what I was interested in for a major, and I became close with a new group of friends," Diaz said.  
Tina Vance Knight, director of CPD, said her staff reviewed the range of career programs available on campus while providing students with guidance and time to contemplate their options.  
"We tried to give them a little bit on each area of the career planning process, and we wanted to get them to reflect and make a plan A, plan B, and plan C. I want this program to move them toward making more and better decisions," she said. 
In addition to supporting career exploration, Sophomore Jump Start helped the students make connections with others, which studies show is a key factor in students completing their college degrees. To help forge those bonds, the students who were enrolled in the program lived at the Lions Gate Student Apartments while exploring Philadelphia, participating in game nights, and heading out to an escape room.  
Sophomore Jump Start is one of five summer access programs Abington offers, including four for incoming first-year students: Engineering Ahead, a multiweek engineering immersion; Pathway to Success Summer Start (PaSSS), ACHIEVE Scholars, and another specifically targeting the challenges faced by first-generation college students. 
Sophomore Summer Jump Start at Penn State Abington was funded by the University's Equal Opportunity Planning Committee. 
About Penn State Abington 
Penn State Abington provides an affordable, accessible and high-impact education resulting in the success of a diverse student body. It is committed to student success through innovative approaches to 21st-century public higher education within a world-class research university. With more than 3,000 students, Penn State Abington is a residential campus that offers baccalaureate degrees in 24 majors, undergraduate research, the Schreyer honors program, NCAA Division III athletics and more.