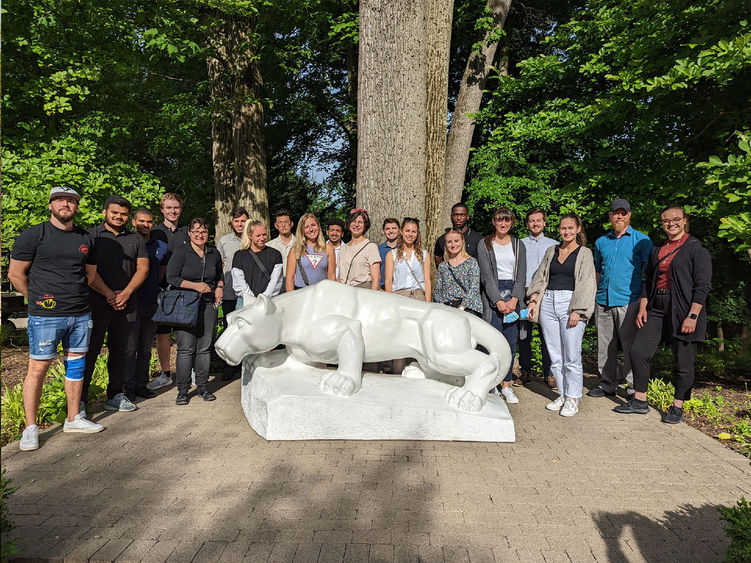 ABINGTON, Pa. — Penn State Abington has collaborated with a German university for more than a decade to design competitions that provide students with international business experiences. The latest iteration took place recently when 10 students from Hof University of the Applied Sciences joined 10 Abington students to develop a real-world business solution for a European company with operations in the Philadelphia region. 
Faculty mentors mingled students from Abington and Hof to create five teams, and the group traveled to NETZSCH Premier Technologies' facilities in Exton for the discovery phase.  
The issue presented by NETZSCH executives and its president, Giuliano Albiero, examined the case for the firm to potentially sell its equipment in the alternative proteins market, which refers to foods, ingredients, or beverages that have protein derived from non-animal sources. The segment is becoming increasingly important, spurred by global population growth, climate change, and supply chain challenges. 
Among the factors the teams needed to consider while unearthing supporting research and developing a rationale for their plans: 
A new business strategy: They needed to convince NETZSCH executives to sell equipment to the alternative proteins market and to present a go-to-market blueprint for generating new business in this emerging market. 

Pricing justification and competition: The price of the company's products is substantially higher than its competitors' prices. However, the quality and customer support are superior.  

Global experience: The company has a worldwide presence as opposed to many competitors who only sell to specific regions. 
From the outset, the competition reflected the realities of the professional environment: managing tight deadlines and cross-cultural relationships, as well as mastering skills and stretching limits. After performing primary research onsite, the teams then met at Abington over two days to develop and refine their proposals. The students formally presented their ideas to NETZSCH executives at the Microsoft Technology Center in Malvern.  
Two members of the winning team said the competition imparted important lessons. 
"You don't have to speak the same language fluently to get the work done effectively. The case competition will be great for my portfolio and knowing how to sell a pitch to a company is useful for my professional life," Mohamed Mansaray, a senior information sciences and technology major from Abington, said.  
For senior Nicholas Gensel, a project and supply chain management major from Abington, effectively managing resources and relying on the team were key takeaways. 
"This competition is incredibly valuable to my professional development. Being able to say that I helped tackle a serious issue for a respected company is something that will surely stand out on my résumé," he said. 
Juliane Foof and Ingrid Gunther from Hof are the other members of the winning team, each of whom will be eligible for internship opportunities at NETZSCH facilities in Germany and the United States as their prize. 
Participation in these types of competitions are highly sought out by students, according to Thomas Stone, associate teaching professor of business and business program chair.  
"I can't think of a better way to prepare Abington students for business careers. They had to learn a new company and industry in a few short days while balancing their other obligations," he said. 
Four Abington faculty served as mentors for the competition: Stone; Peter Hornberger, lecturer in management and entrepreneurship and coordinator of the Abington LaunchBox entrepreneurship hub; Kevin Mayhew, lecturer in business; and Joe Oakes, associate teaching professor and program chair of information technology, computer science, and cybersecurity analytics and operations. They were joined by Hof business faculty Tina Wiegand and Max Walter. 
"We are very fortunate for the friendship we have with Penn State Abington. It was more than just communities of purpose that formed in the American-German working groups. Friendly relationships have been forged that have the potential to last beyond the day. If we teachers succeed in building bridges between our nations and cultures, then we will have done more for the future than just educating capable people," Walter said. 
The competition was funded by the Margaret Germer/Ruth Taub Business Leadership Endowment. 
About Penn State Abington 
Penn State Abington provides an affordable, accessible and high-impact education resulting in the success of a diverse student body. It is committed to student success through innovative approaches to 21st-century public higher education within a world-class research university. With more than 3,000 students, Penn State Abington is a residential campus that offers baccalaureate degrees in 23 majors, undergraduate research, the Schreyer honors program, NCAA Division III athletics and more.