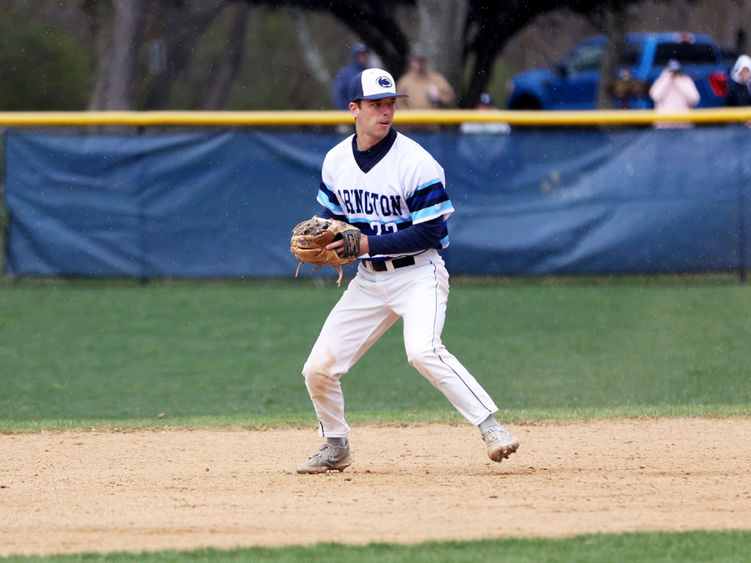 ABINGTON, Pa. — Penn State Abington student-athlete Ryan McCarty has been named a semifinalist for USA Baseball's Golden Spikes Award, a competition for the top amateur baseball player of the year. He is the only non-NCAA Division I player and only Penn State player to be nominated.
Fan voting is one piece of the Golden Spikes Award process. Click here to vote for McCarty through June 6.
McCarty put together an unmatched regular season in which he won the NCAA Division III triple crown and paced college baseball offensively throughout the year. McCarty finished his historic senior season with the Division III single-season record for total bases (220) and led all of the NCAA in batting average (.529), hits (100), RBIs (91), slugging percentage (1.164), and total bases, while his 29 home runs and 89 runs scored led Division III and tied for the top mark in all of NCAA baseball. He looks to become the first Golden Spikes Award winner from a non-Division I program since Bryce Harper of the Philadelphia Phillies won the award in 2010.
Beginning with the announcement of the semifinalists, a ballot will be sent to a voting body consisting of baseball media members, select professional baseball personnel and USA Baseball staff, and the previous winners of the award, representing a group of more than 150 voters. As part of this selection process, all voters will be asked to choose three players from the list of semifinalists. On June 8, USA Baseball will announce the finalists, and voting for the winner will begin that same day.
The 44th Golden Spikes Award will be presented on June 24 on ESPN.
Click here to read more about McCarty, as well as the national and regional accolades and press he has received for his remarkable season.
About Penn State Abington
Penn State Abington provides an affordable, accessible and high-impact education resulting in the success of a diverse student body. It is committed to student success through innovative approaches to 21st-century public higher education within a world-class research university. With more than 3,000 students, Penn State Abington is a residential campus that offers baccalaureate degrees in 23 majors, undergraduate research, the Schreyer honors program, NCAA Division III athletics and more.