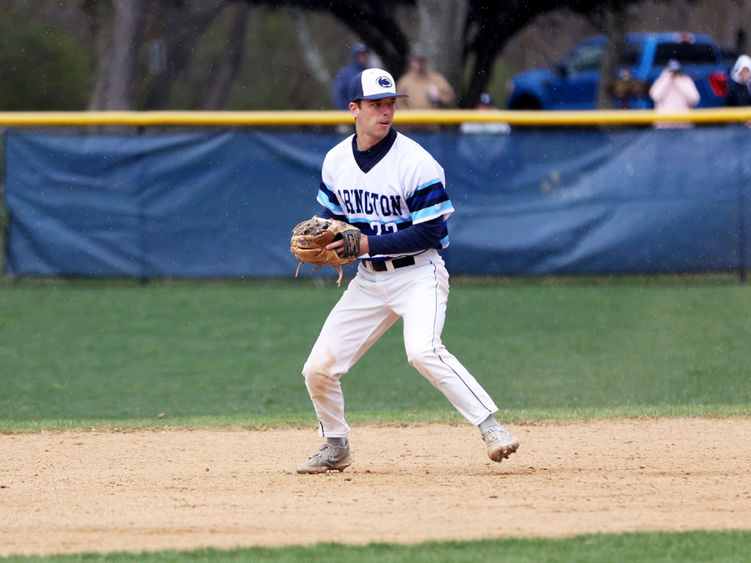 ABINGTON, Pa. — Penn State Abington baseball player Ryan McCarty led the NCAA Division III this season in hits (100), batting average (.529), home runs (29), doubles (27), RBIs (91) and runs (89), and he set a new Division III single-season record for total bases (220) through 40 regular-season games and four more in the United East Conference Tournament. 
McCarty, an infielder who also pitches for Abington's baseball team, was named to two weekly national honor rolls for his performance in early May. The senior was tabbed as the shortstop on the D3baseball.com National Team of the Week and also was named as a National Player of the Week honorable mention by the National Collegiate Baseball Writers Association.  
The four-time all-conference selection was the United East's top player of the year for the first time in his career.  
He has been interviewed by reporters from the Philadelphia Inquirer and KYW Newsradio. 
In his lengthy interview in the Inquirer, McCarty credited his success to his mental acuity, honed by studying YouTube videos from hitting coach Steve Springer and sports psychologist Ken Ravizza.  
"I've been working from a mentality standpoint in the game. I follow guys like Steve Springer and Ken Ravizza who preach this sort of freedom in the game. There's a lot less stress involved," he said. 
 
"I was able to separate, not only each at-bat, but during my at-bats I was able to separate each pitch and stay very focused," McCarty said. "That allowed me to hit a lot of the pitches that were sort of mistakes and capitalize on pitches like that." 
 
Ravizza and Springer both emphasized the importance of being present in the moment. 
 
"[That's] more important than anything," McCarty said. "Some people when they wake up in the morning are already trying to process the game in their head, and it can cause stress trying to think into the future too much." 
 
Next month, McCarty will play for the Harwich Mariners in the Cape Cod League, the top summer collegiate league in the nation. He is eligible for the Major League Baseball draft in mid-July. If McCarty isn't selected in the draft, the Bucks County native could find his way into the minor leagues as a free agent. 
About Penn State Abington 
Penn State Abington provides an affordable, accessible and high-impact education resulting in the success of a diverse student body. It is committed to student success through innovative approaches to 21st-century public higher education within a world-class research university. With more than 3,000 students, Penn State Abington is a residential campus that offers baccalaureate degrees in 23 majors, undergraduate research, the Schreyer honors program, NCAA Division III athletics and more.