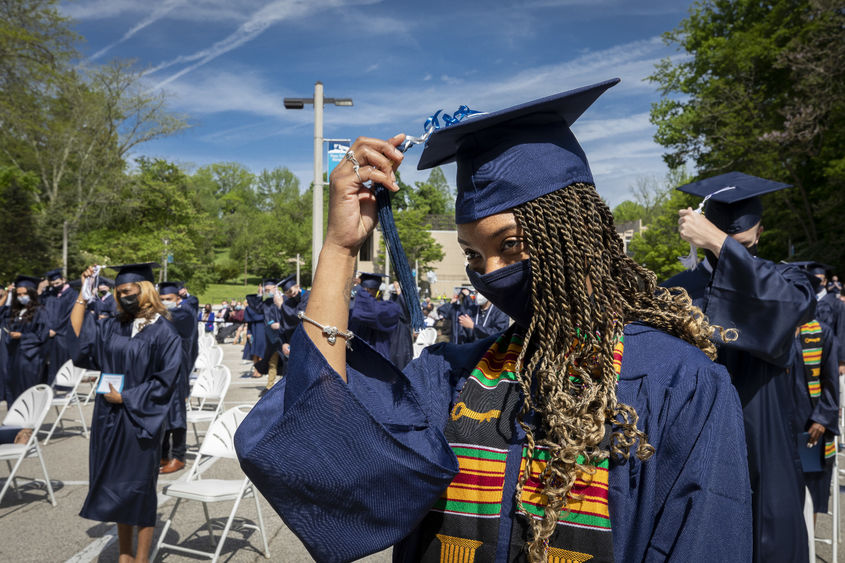 The Penn State Abington Class of 2021 celebrated finishing their college careers during two graduation ceremonies Friday under a brilliant blue sky – the first in-person ceremonies in over a year due to the coronavirus. More than 300 students earned their degrees this spring.
New Chancellor Margo DelliCarpini presided over the ceremonies. She spoke of how the circumstances surrounding their college careers including the pandemic and racial violence "have been something beyond our imaginations."
"We have mourned together, and we continue to try to make sense of the events in the world and collectively work to come up with solutions that protect our vulnerable communities, that acknowledge trauma, and come together to find peace and healing. It is within these realities that you persevered, and you have been successful in completing your degrees," she said.
"What you have witnessed and lived through has prepared you in ways no typical education could. The events in our country and in the world have impacted many of your pathways, but you have learned to be flexible and resilient, and, importantly, you have learned to be engaged citizens who make a difference," DelliCarpini continued. 
"Class of 2021, you are uniquely equipped to face the challenges of today and those still to come. Your experience at Penn State Abington has prepared you to understand and to lead in a world recovering from a pandemic and experiencing social change and unrest," she said. 
Seven students were recognized during the ceremony including valedictorian Kaeli Whalley. Schreyer Honors College scholars Ameena Atif, Alyson Farkas, Rochaelle Gill, Ariel Hooks, Selina Nguyen, and Jacob Pilewski received their medallions.
Watch the Abington spring 2021commencements here.  
About Penn State Abington
Penn State Abington provides an affordable, accessible and high-impact education resulting in the success of a diverse student body. It is committed to student success through innovative approaches to 21st-century public higher education within a world-class research university. With nearly 3,500 students, Penn State Abington is a residential campus that offers baccalaureate degrees in 23 majors, undergraduate research, the Schreyer Honors College, NCAA Division III athletics and more.