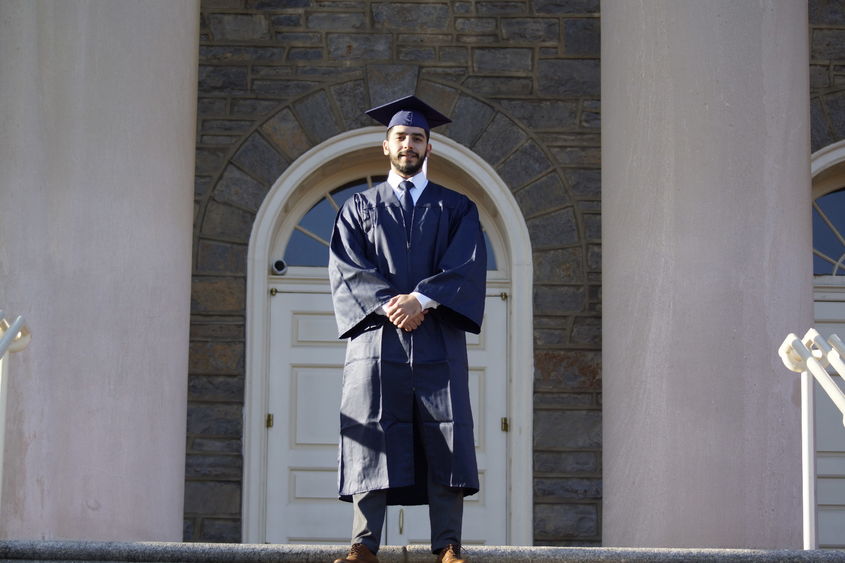 Penn State Abington launched more than 280 students into the world on Saturday, Dec. 19, during a University-wide virtual commencement ceremony followed by videos and other content specifically for Abington graduates.
The livestreamed event involved traditional ceremonial components, including formal remarks and conferral of degrees for undergraduate students. The video is available here. Following the livestreamed ceremony, graduates and their families had the opportunity to view a webpage created for Abington that includes individual student recognition with shareable digital slides and a video featuring faculty and staff congratulating the Class of 2020.
Andrew August, interim chancellor at Abington, lauded the students for finishing their college careers under the challenging circumstances presented by the coronavirus.
"Your grit, determination, and resilient spirit binds us together as Penn Staters," he said.
"You have developed the skills that will help you succeed in the professional workforce and as citizens, skills like oral and written communication, critical and analytical thinking, collaboration and teamwork. I urge you to reflect on these skills as you head to job interviews, take on challenges at work, and engage in the world. Our faculty and staff have prepared you with the tools to succeed. You are ready," he said.
A printed copy of the Abington commencement program will be mailed to all graduates. Graduates are encouraged to use the hashtags #psuabgrad, #PSUgrad, and #Abington2020 to share images of their in-home, socially distant celebrations.
While the coronavirus pandemic led the University offer the virtual summer/fall 2020 commencement, Abington will invite graduates to return for a future commencement ceremony when public health guidelines allow.

About Penn State Abington
Penn State Abington provides an affordable, accessible, and high-impact education resulting in the success of a diverse student body. It is committed to student success through innovative approaches to 21st-century, public higher education within a world-class research university. With about 3,700 students, Penn State Abington is a residential campus that offers baccalaureate degrees in 21 majors, undergraduate research, the Schreyer honors program, NCAA Division III athletics, and more.