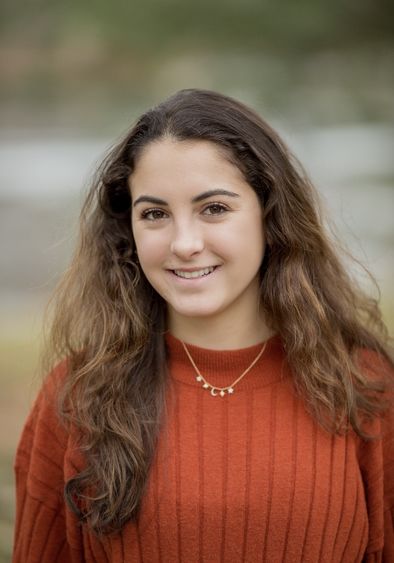 Penn State Abington student Carly Martinson hasn't let the coronavirus pandemic slow her down. She boasts a 4.0 G.P.A., works part time, volunteers, and she's a student-athlete. And now the accounting major is preparing to tackle two internships in 2021 with premier international tax and audit firms. 
This spring, Martinson will enroll in one class at Abington while completing a full-time internship in the audit group at PwC, the multinational audit and assurance, consulting, and tax service provider. Following that intense program, she will move to Washington, D.C., in the summer for another internship, this time with the federal audit practice at KPMG. 
Martinson secured her internships with assistance from Abington's Center for Career and Professional Development and its director, Tina Vance Knight.
"I started looking at internships on my own, but I also utilized the career development center at Abington and Nittany Lion Careers. I applied to the Big Four accounting firms and a lot of internships with help from Tina Vance Knight," she said. "She was extremely helpful. She set up a mock interview, which really helped me with the interview process. Mock interviews really helped get my confidence up so when interviews started rolling in, I felt much more comfortable."
Martinson also credits two Abington accounting professors, Bernard Rosenberg and Zhanel Devides, with supporting her. 
"I talked to Professor Devides about my internship process, and she gave me advice on accepting internship offers. It was a big help," she said.
Martinson, a junior, has the foresight to plan to graduate in four years with 150 credits, which will immediately qualify her to take the certified public accounting exam. Instead of enrolling in 18 or 19 credits per semester to accomplish this goal, she takes courses at a local community college every winter break and enrolls in summer courses at Abington, too.  
Martinson's interests are broader than scholastic, though. In early March, she traveled with other students and chaperones to the Pine Ridge Native American Reservation in South Dakota for Abington's Alternative Spring Break. 
"It was an amazing experience. I really wanted to get involved on campus and thought it would be a good way to do so. I was able to Immerse myself in Native American culture on the Pine Ridge reservation and break out of that bubble that a lot of college students find themselves in," she said. 
"We were building a structure for a family so that during the harsh winter machinery they had wouldn't freeze up. I had the opportunity to experience some of their celebrations and rituals including the sweat lodge. I got to meet some really amazing people. It was a real learning experiece," she said, adding that she is hoping to participate in Alternative Spring Break again before she graduates in 2022.
Martinson, a commuter student from Bucks County, joined the Abington tennis team while maintaining a part-time position at the Trenton Country Club as the paddle tennis and junior tennis pro. During her college career, she has also coached high school squash, worked as assistant athletic program director at her high school alma mater, served as a barista, and volunteered for the League of Women Voters. She also plays golf.
College has been a growth experience for Martinson.
"I went to boarding school for high school, and they managed your time for you. Once I got to college, I was hit with free time that I never had before. College has taught me to manage time and working has helped me grow up. I keep two running agendas to help manage school and work tasks. Abington gave me the chance to work and go to school. I've more life experiences than I had in high school," she said. 
"I'm committed to excellence. I really love everything I do so I fully commit myself to work and school and to being the best that I can be. I really enjoy all of it so that it's not hard to commit myself to succeeding especially because it helps other people, too. If I do the best job I can at work, it makes my boss's job easier. At school, it's helping my teammates. I really enjoy being the best that I can be and learning life skills," Martinson said.
About Penn State Abington
Penn State Abington provides an affordable, accessible and high-impact education resulting in the success of a diverse student body. It is committed to student success through innovative approaches to 21st-century public higher education within a world-class research university. With nearly 4,000 students, Penn State Abington is a residential campus that offers baccalaureate degrees in 22 majors, undergraduate research, the Schreyer Honors College, NCAA Division III athletics and more.