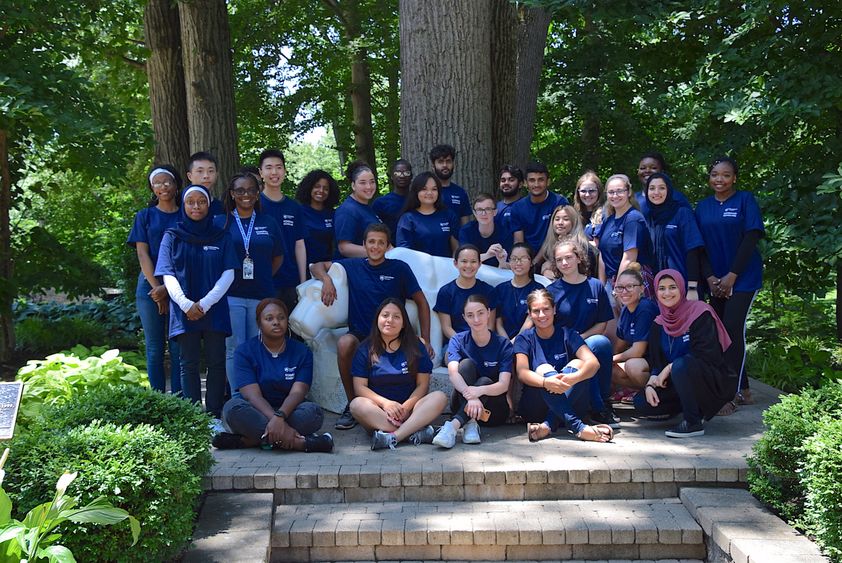 ABINGTON, Pa. — An intensive summer program at Penn State Abington provides a group of incoming first-year students with the opportunity to earn college credits while preparing them for the rigors of college.
The Pathway to Success: Summer Start (PaSSS) program combines enrollment in required courses with scholarship support, eligibility for a campus job, and mentoring.
Eva Klein, senior administrator for Academic Affairs at the Abington campus, oversees the program.
"PaSSS provides the tools and resources to increase the likelihood that students will graduate and earn their degrees on time," she said. "This program helps acclimate students to college and gets them off on the right foot."
Kate Chan, a 2017 PaSSS student, said her professors and peer advisers helped her discover her interests, and she became more goal-oriented as a result.
"The classes that I took gave me more confidence in the future of my academic career, and when the fall semester started, I was well prepared. The mentors gave me tips and advice that were extremely helpful to guide me through my first semester," she said. "The best part was creating a bond and becoming friends with the students from the PaSSS program and helping each other whenever we could, even after the summer was over."
After completing the PaSSS program, Chan went on to work in several campus units, joined student organizations, and traveled to Japan for 10 days as a required part of a corporate communication course.
Two current PaSSS students praised the program for the positive impact it's had on their first semester at Abington.
"PaSSS helped me meet new people, build relationships, and improve my writing skills," said Rosemary Arroyo, who hails from Philadelphia. "I'm getting to know the campus better and getting to know faculty."
"This program definitely put me in a space where I can enhance my leadership skills. This will help me better myself," added Victoria Pham, also a Philadelphia resident. "I can also share ideas with faculty in a supportive atmosphere." 
This is the third year for PaSSS at Abington, and it has grown to accommodate 33 first-year students and 15 second-year students during the summer of 2019.
The PaSSS program runs for six weeks prior to the students' first fall semester at Abington. Students are required to enroll in English 15: Rhetoric and Composition, and Communication Arts and Sciences 100: Effective Speech.
Once they successfully complete their first summer of PaSSS, students are eligible to continue the program in the second summer when they can earn up to 12 credits with scholarship support.  
Qualified students:
Receive a $1,500 scholarship plus $400 for books toward two classes (six credits) in the summer.
Become eligible for on-campus employment, earning $10 per hour.
Participate in math enrichment as well as workshops, mentoring and other activities to help them build a support network and ease the adjustment to college.
"The program is constantly evolving, with the goal being that we fully engage this group and work with them toward their successful completion of college," said Klein, who oversees the PaSSS program at Abington.
PaSSS is offered at select Penn State campuses throughout the commonwealth and is a priority of the Open Doors imperative in the University's current campaign, "A Greater Penn State for 21st Century Excellence."
The Open Doors Scholarship Program, which supports PaSSS, aims to address challenges undergraduates may face in earning their degrees. The University has created a range of programs that can help them succeed. Alumni and friends can help to sustain these programs and meet the urgent needs of students through their endowed gifts.
The PaSSS program at Penn State Abington is supported by gifts from three donors. Edward Fitzpatrick (1988, business) and his wife, Jackie, wanted to give back by creating a scholarship through the Open Doors program and selected PaSSS for their focus.
Philanthropist and real estate developer Steve Korman (1962, business) provides support for 20 PaSSS students. He shares his passion for community service by hosting Abington PaSSS students for a volunteer experience at MANNA, which provides thousands of free meals daily for people with critical illnesses.
Ira Lubert (1965, health and human development), a member of the Penn State Board of Trustees, is chairman and co-founder of Independence Capital Partners and Lubert Adler Partners, LP. Lubert is a longtime supporter of the University and Penn State Abington.
"I am grateful that the Fitzpatricks, Steve Korman and Ira Lubert have chosen to support greater access and affordability to a Penn State Abington education," Damian Fernandez, chancellor of Penn State Abington, said. "Their commitments advance our efforts to tap into the high potential of our students and open doors for talented individuals."
About Penn State Abington
Penn State Abington provides an affordable, accessible and high-impact education resulting in the success of a diverse student body. It is committed to student success through innovative approaches to 21st century public higher education within a world-class research university. With nearly 4,000 students, Penn State Abington is a residential campus that offers baccalaureate degrees in 21 majors, undergraduate research, the Schreyer honors program, NCAA Division III athletics and more.
About 'A Greater Penn State'
The Open Doors Scholarship Program will advance "A Greater Penn State for 21st Century Excellence," a focused campaign that seeks to elevate Penn State's position as a leading public university in a world defined by rapid change and global connections. With the support of alumni and friends, "A Greater Penn State" seeks to fulfill the three key imperatives of a 21st-century public university: keeping the doors to higher education open to hard-working students regardless of financial well-being; creating transformative experiences that go beyond the classroom; and impacting the world by fueling discovery, innovation and entrepreneurship. To learn more about "A Greater Penn State for 21st Century Excellence," visit greaterpennstate.psu.edu.