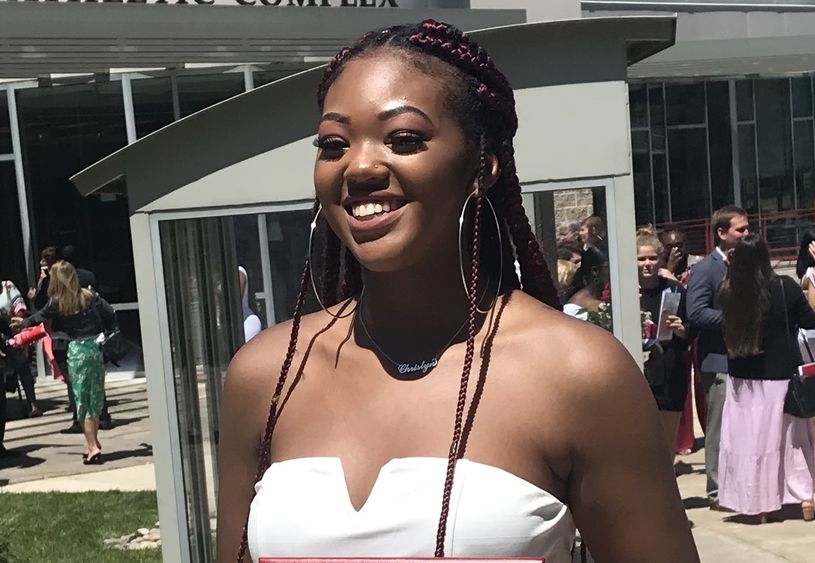 ABINGTON, Pa. — Christyn Robinson worked about 25 hours per week as a barista while enrolled at Penn State Abington. When COVID-19 hit, she had to return home to Baltimore and worked at a local Starbucks for about 13 hours per week.
Cassie Fishburn was attending class full time and working as an insurance agent 40 hours per week when the coronavirus erupted. She was unable to work for two months and, as an independent student, had no resources to fall back on.
Fortunately, Robinson and Fishburn both received grants from the Penn State Abington Emergency Assistance Fund, which provides critical assistance to students who are struggling to overcome unexpected financial challenges, in this case attributed to the pandemic.
"I was now able to focus my finances on the household and taking care of my family and myself during such a hard time," Robinson said. 
"The money helped with rent, utilities, food, and needed necessities," Fishburn said.
Carole Eiben, director of financial aid, said her office received an influx of requests this spring from students who were incurring significant unexpected expenses as well as day-to-day expenses they could no longer afford due to cuts in hours.
"We helped 24 students since March with requests that were almost all related to COVID-19 financial disruptions. We spent $12,500 in emergency grant funds," she said. "The surge in activity was made possible through generous donations, which are still being accepted."
Among the donors were members of the Penn State Abington Advisory Board, a group of professionals and leaders in the community who provide ongoing advice and support to the college.
"Student success is a priority for members of the Penn State Abington Advisory Board. When the pandemic struck, a major concern of the board was for students who lost jobs and couldn't pay tuition and rent or purchase food or hotspots to access the Internet to continue their classes at home," retired Army Lt. Col. Mack Brooks, class of 1969, said, "We support the Penn State Abington Emergency Assistance Fund because it is a mechanism to help students remain on track toward earning their degrees without incurring additional debt." 
"I have a responsibility, no obligation, to support our students and the next generation of leaders in this small but potentially impactful way," said Dr. Laura P. Clark, advisory board chair.
John Paone, class of 1969, recalls how Penn State enabled him and a group of friends — who still get together — to get an education even though their families were low income.
"I believe we are obligated in some way to foster what we've done and give back to other students who are in need. The emergency assistance fund will do that. I've done well in life. If you've benefitted in life and done well, try to help those in the same situation," he said.
Robinson and Fishburn echoed Paone and said they plan to give back as well.
"Without that grant, I would have been forced to give up my dream. My goal of graduating from Penn State on time is still alive. I hope one day as an alumna I can contribute to those in need of assistance," said Robinson.
"Without the help from Penn State Abington, not even just during the pandemic but for the past four years in general, I would not have made it to where I am today," Fishburn said. "I will be paying it forward when I become an alumna of Abington."
At Abington, 38% of students are eligible for Pell grants, which means they display exceptional financial need, and 76% receive financial aid. Fifty percent of the approximately 3,700 students identify as minorities, and more than 40% are the first in their families to pursue a bachelor's degree.
Those who are interested may give to the Penn State Abington Emergency Assistance Fund here.
About Penn State Abington
Penn State Abington provides an affordable, accessible and high-impact education resulting in the success of a diverse student body. It is committed to student success through innovative approaches to 21st-century public higher education within a world-class research university. With nearly 4,000 students, Penn State Abington is a residential campus that offers baccalaureate degrees in 22 majors, undergraduate research, the Schreyer Honors College, NCAA Division III athletics, and more.