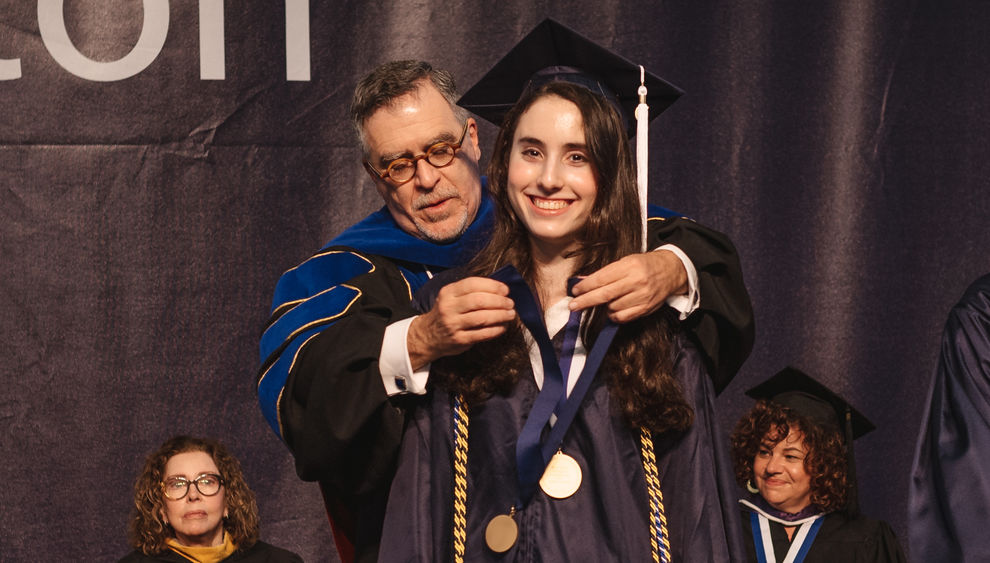 ABINGTON, Pa. — Penn State Abington valedictorian Rachel Katz celebrated the campus' extraordinary sense of community and collaboration in her remarks to the Class of 2019 on Saturday, May 4.
Katz told the 330 graduates that the "warm, close-knit community ... is unique in that its environment is one that stresses collaboration and cooperation rather than competition."
"This can be seen in the Campus Leaders Activities Workroom, where our student organizations gather together to co-sponsor and plan activities. It can be seen in the classrooms as faculty encourage students to work in teams and students assist one another with group projects. And it can be seen in The Learning Center, as peer tutors mentor other students to help them achieve their academic goals," she told the audience in the Athletics Building.
Personally, Katz said, the best example of community and collaboration occurred last fall when she helped organize a candlelight vigil in the aftermath of the Tree of Life synagogue shootings in Pittsburgh. 
"We were all there as a community, supporting one another, standing together against hate," the Schreyer Honors College Scholar said.
"We know from the lessons we learned from Penn State Abington about the importance of teamwork and community that we will not be facing challenges alone. We carry with us the support of our mentors, friends and family wherever we go. And with this powerful network, we can achieve anything."
Abington Chancellor Damian Fernandez tasked the new graduates with achieving happiness, not just for themselves but for their communities and the country. 
"This is your challenge — and your choice: Focus on what matters, be engaged and generous with your community, forge deep human connections, go out and enjoy nature as much as you can, and contribute to defining a common good for our nation. There cannot be happiness without goodness," he said.
Keynote speaker Linda Richardson, founder of Richardson, a global sales training business, shared her journey from teaching to pioneering sales trainer and business owner. 
"Give your work all your might and all your strength," she told the new graduates. "My success is a product of the extra things ... the extra steps ... I've done while doing my real work."
Check out more photos from spring 2019 commencement on Facebook. 
About Penn State Abington
Penn State Abington provides an affordable, accessible, and high-impact education resulting in the success of a diverse student body. It is committed to student success through innovative approaches to 21st century public higher education within a world-class research university. With nearly 4,000 students, Penn State Abington is a residential campus that offers baccalaureate degrees in 19 majors, undergraduate research, the Schreyer honors program, NCAA Division III athletics, and more.