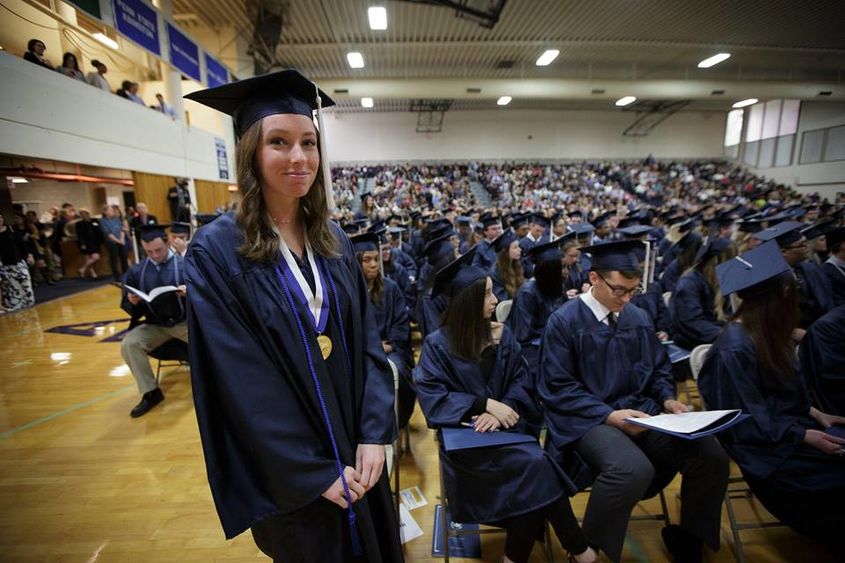 ABINGTON, Pa. — With Penn State Abington's spring 2017 commencement moved indoors due to heavy rain, the campus community joyfully weathered a downpour of emotions as the 400 graduates — the largest class in its history — moved on to new challenges.
New York Times best-selling author and attorney Lawrence Otis Graham urged the Class of 2017 not to play it safe in his commencement address.
"During a challenging time in our country when so many people choose not to take a stand, don't play it safe," Graham, who referred to himself as a cultural troublemaker, said. "Push yourself to do something you have always wanted to try but that you backed away from simply because others said you would never succeed or because you weren't 100 percent certain it would work."
"Re-examine the goals you once had but you put on the back burner because you thought your gender, your race, your ethnicity, your religion, your sexual orientation, your socioeconomic background, or your family history might suggest that you can't achieve your goals," he continued. "A simple piece of advice that worked for me when others said my goals were unreachable: Do the things you think you cannot do."
This is the largest graduating class in Abington history, with 12 associate, 386 baccalaureate and two master's degrees awarded on May 5. Among the graduates are 19 new teachers and 68 students who earned bachelor of science in nursing degrees.
Seventeen student-athletes, including five who played all four years at Abington, graduated. One of those student-athletes, lacrosse player Molly Wyman, is set to play in the lacrosse championship game the day after commencement.
Four graduates left the ceremony with more than one degree:
Benjamin Cherian: bachelor of science in biology and a bachelor of arts in psychological and social sciences;
Sarah Gillespie: bachelor of science degrees in criminal justice and psychological and social sciences;
Maria Kravets: bachelor of science in marketing and bachelor of arts in Russian;
And Andrew Krick: bachelor of science in psychological and social sciences and bachelor of arts degrees in administration of justice and history.
Among the students who shared their plans for the future are four science and biology majors. Temple University accepted Michael Chen for physical therapy and Nicholas Martin for pharmacy school. Three prestigious graduate schools (University of the Sciences, Johns Hopkins, and Northeastern) accepted Madison Kimball into bioinformatics programs. And Schreyer Honors College Scholar Eric Moyer will attend Penn State Hershey Medical School in the fall.
Abington Chancellor Damian J. Fernandez reminded the graduates of the power of language.
"Today I invite you to take a pause, just a breather, and recall concepts that you learned at Abington and reflect on those words and their power. In a society that tends to overvalue action and undervalue thoughts, we would be well-served to consider words and their power because we make the world through words, we must care about them," Fernandez said.
"Words are essential to understand the world, to navigate it, and to define who you are in it," he said. "Even if they are fickle at times, words open worlds to you. … You now have the vocabulary at your disposal to make sense of the world, to construct and reconstruct your identity and your purpose."
Penn State Abington, formerly the Ogontz campus, offers baccalaureate degrees in 18 majors at its suburban location just north of Philadelphia. Nearly half of our 4,000 students complete all four years at Abington, with opportunities in undergraduate research, the Schreyer honors program, NCAA Division III athletics, and more. Students can start the first two years of more than 160 Penn State majors at Abington and complete their degrees at University Park or another campus. Lions Gate, our first residence hall, will open in August.