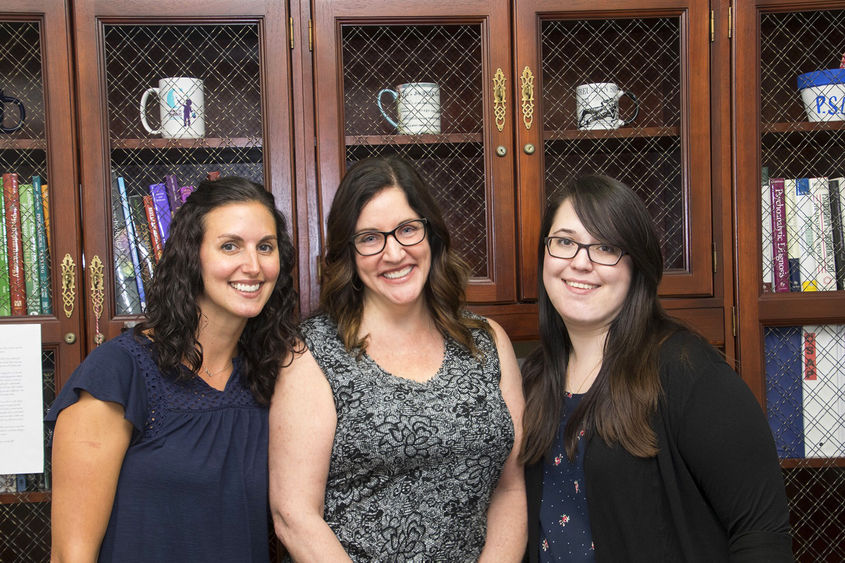 ABINGTON, Pa. — Many students deal with academic, financial and family pressures that can intensify during college. They may also be dealing with issues such as housing or food insecurity. At Penn State Abington, a trio of counseling professionals is on the front lines, ready to aid students in need.
"Most people can benefit from having another person sit with them, listen with intention, and respond with compassion and validation. That can be hard to find in our fast-paced world," Dr. Karen Gould, coordinator of Counseling & Psychological Services (CAPS), said.
Gould, counselor Jennifer Donovan, and predoctoral intern Sabra Walter agree that seeking counseling shouldn't be stigmatized.
"We want open and frequent conversation about the benefits of counseling so that the therapy process becomes normalized," Gould said.
Students who seek help from CAPS run the gamut, from being fearful about a specific test, to more serious concerns. Among the services CAPS offers:
Crisis intervention
Professional counseling
Group therapy
Referrals to outside agencies for psychological testing and/or psychiatric evaluations
Wellness programs on mental health issues
Referrals to the LionShare campus food pantry or other on-campus resources
To encourage students to come in initially, and then return if necessary, Gould and her staff rely on the students to take the lead.
"We let them talk about what they want to talk about and tell us what they need. They are in the driver's seat in this situation, and our work together should feel nonthreatening," Gould said.
Most importantly, "no one should feel pressured to go to counseling," she continued. "It's a very personal decision."
CAPS offers free services, and confidentiality is paramount. The office is tucked away in the Cloverly Building on the edge of campus. There is little traffic in the area, and CAPS has a private side entrance to the building.
Gould reminds anyone considering visiting CAPS that, by law, she can't talk to parents or anyone else about their treatment without written consent from students. 
CAPS accommodates walk-ins but also accepts appointments. 
In addition to CAPS, Case Manager Julie Rodgers is in the Lares Building to assist students who encounter challenges or concerns in achieving success at Abington by providing the necessary tools and support to make difficult situations more manageable. 
If a student or someone a student knows is dealing with academic distress, financial or housing/food insecurity, transportation difficulties, a family emergency or another crisis, Case Management Services is there to help. Rodgers can provide referrals to on-campus or community providers, maintain follow-up support, and advocate for students among other services.
Abington is participating in the University's Red Folder initiative, which is designed to provide resources and information to support faculty, staff and administrators in helping distressed students. 
Copies of the Red Folder, a glossy red folder with dynamic graphics and helpful text, have been distributed to all faculty and staff. The Red Folder identifies possible signs of student distress in academic, psychological and physical domains, as well as listing safety risk indicators.
The Red Folder uses the terms "recognize, respond and refer" as an organizing construct, providing tips for recognizing distress; strategies for how best to respond, including a decision tree to aid in deciding the next best step; and resources to refer a student to as part of offering effective help. The folders are intended to be kept in a prominent place for easy access and referral.
Resources
Penn State Abington is addressing the current mental health crisis among young adults by increasing its commitment to providing support services.
Abington Counseling & Psychological Services (CAPS)
Hours: Monday through Thursday 8 a.m. to 7 p.m.; Fridays until 5 p.m. 
Contact information:
Karen Gould, licensed psychologist and CAPS coordinator, 103 Cloverly Building, 215-881-7577 or

[email protected]

Jennifer Donovan, CAPS Counselor, 102 Cloverly Building, 215-881-7956 or

[email protected]

Sabra Walter, Predoctoral Intern, 107 Cloverly Building, 215-881-7979 or

[email protected]
Emergency Resources
Police or Ambulance: 911
Penn State Abington Police and Public Safety: 215-881-7575
Penn State Crisis Line: 877-229-6400
Abington Hospital-Jefferson Health Crisis Service Program at the Emergency Trauma Center: 215-481-2525
Montgomery County Mobile Crisis: 855-634-4673
The National Suicide Prevention Lifeline: 800-273-TALK (8255)
Health & Wellness Resources at Penn State Abington
The Penn State Abington Health & Wellness Center provides free on-campus basic health care and wellness programs.   
The Abington Care Team (ACT) provides members of the campus community with the opportunity to share concerns about a student's wellness or safety. The main purpose is to be proactive in assisting students and intervening with students who appear to be having academic or health/safety issues. Concerns may be submitted online. 
About Penn State Abington
Penn State Abington provides an affordable, accessible and high-impact education resulting in the success of a diverse student body. It is committed to student success through innovative approaches to 21st-century public higher education within a world-class research university. With nearly 4,000 students, Penn State Abington is a residential campus that offers baccalaureate degrees in 19 majors, undergraduate research, the Schreyer honors program, NCAA Division III athletics and more.