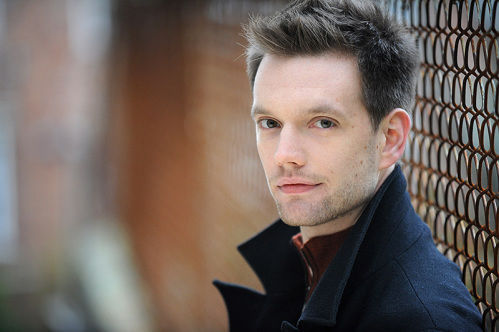 ABINGTON, Pa. — Josh Rivedal didn't mince words during his one-man show, "Kicking My Blue Genes in the Butt," at Penn State Abington last week. The 'blue genes' refer to his dad and paternal grandfather, both of whom took their own lives, and to his own suicide attempt five years ago.
The actor sought help and then felt called to support others by using his talents to develop a program specifically for college students. During National Suicide Prevention Awareness Week, Abington Counseling and Psychological Services (CAPS) invited the actor and writer to make his second appearance on campus.
"My dad's suicide turned my world around," he told students in Lubert Commons. "We knew my grandfather committed suicide, but Dad never told us. We didn't know what signs to look for as a family."
So Josh developed Blue Genes and The (I'm)Possible Project to provide advocacy, seminars, and peer-to-peer education on suicide prevention and mental health.
Rivedal spent the day at Abington talking, performing, and sitting down for lunch with students. During one segment, he discussed the science and importance of storytelling in encouraging people to seek help.
"Storytelling is suicide prevention," he said. "It normalizes the conversation so don't have to whisper about it anymore."
"Telling your story doesn't have to be public like me. You can speak out and speak often to your dog, clergy, or a friend," he said. "Talking about help leads to getting help."
Abington campus psychologist Karen Gould joined Rivedal to review signs and symptoms, seeking help, and tools to live mentally well while in school.
"A lot of times the deepest core of what people struggle with is shame. I am defective. I am alone. No one is like me. Sharing decreases the shame," she said. "Shame and lack of hope are huge contributing factors to suicide."
Rivedal closed the day with this thought: "We all have spokes in our wheel to health. My spokes are telling my story, therapy, volunteering, creativity, solitude, and spirituality. You gotta do the work."
Rivedal completed Applied Suicide Intervention Skills Training (ASIST) and served on a chapter board of the American Foundation for Suicide Prevention. He is a current advisory board member for Docz, a peer-to-peer mental health app.
The same day, Penn State Abington Continuing Education hosted two free workshops devoted to suicide prevention training. Social worker Renee C. Cunningham taught the evidence-based Question-Persuade-Refer method. It reviews the warning signs of a suicide crisis and how to question, persuade, and refer someone for help.