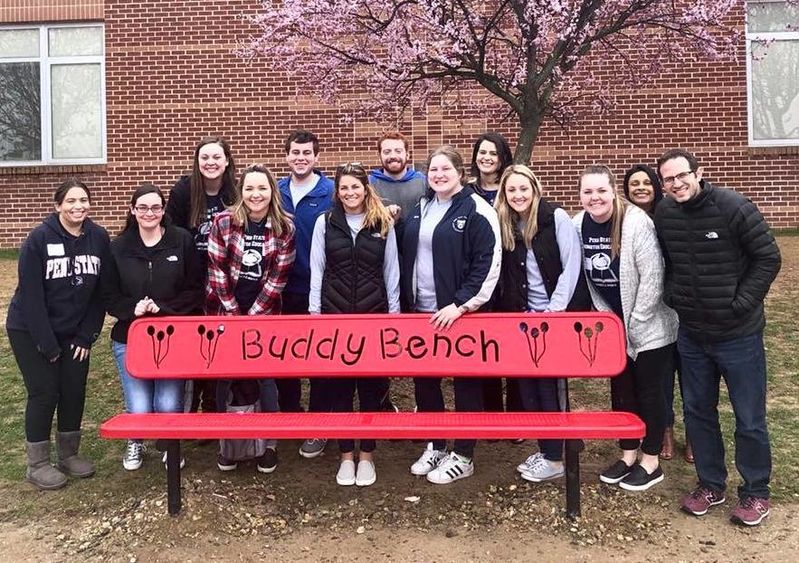 ABINGTON, Pa. — The vivid red bench with the laser-cut words 'Buddy Bench' emblazoned on it stands along the edge of the playground at Overlook Elementary School in Abington Township. Its origin is relatively straightforward: Penn State Abington students majoring in Elementary and Early Childhood Education raised almost $800 to purchase the bench, which is intended to combat bullying and connect children looking for friends.
But it also served to reinforce lessons integral to the Abington education major. Junior Katie Fennessey said service and outreach programs through the major made her aware of the broader needs of children and ultimately is transforming her into a better teacher.
"The service projects I have been lucky enough to participate in have taught me how the external needs of a child, ones that do not directly correspond to their learning, still need to be addressed in order to give the child the best education," said Fennessey.
"Educators must see students as more than just students," he added. "They are children growing and changing every day in response to the world they live in. We need to work to make this place safe and secure for them."
"Being a part of the Education Club and major at Abington helped shape me, not only as a person, but as a teacher as well."

—Emily Campbell, junior
Emily Campbell, who is also a junior, finds that service projects give her a new perspective on children and teaching.
"They are students with huge hearts and amazing potential, but they don't always have enough resources. As education majors, we strive to give them our best effort to help them achieve anything they want," Campbell said. "Being a part of the Education Club and major at Abington helped shape me, not only as a person, but as a teacher as well."
After months of fundraising, the Buddy Bench was installed and dedicated at Overlook Elementary. The dedication included Abington students reading aloud to the children and small group lessons that focused on the virtues of kindness and respect.
Ann Martinelli, assistant teaching professor of education, said she hopes to install a bench at each of the other schools they have "adopted" as a community partner.
About Penn State Abington
Penn State Abington offers baccalaureate degrees in 19 majors at its suburban location just north of Philadelphia. Nearly half of its 4,000 students complete all four years at Abington, with opportunities in undergraduate research, the Schreyer honors program, NCAA Division III athletics, and more. Students can start the first two years of more than 160 Penn State majors at Abington and complete their degrees at University Park or another campus. Lions Gate, Abington's first residence hall, opened in 2017.