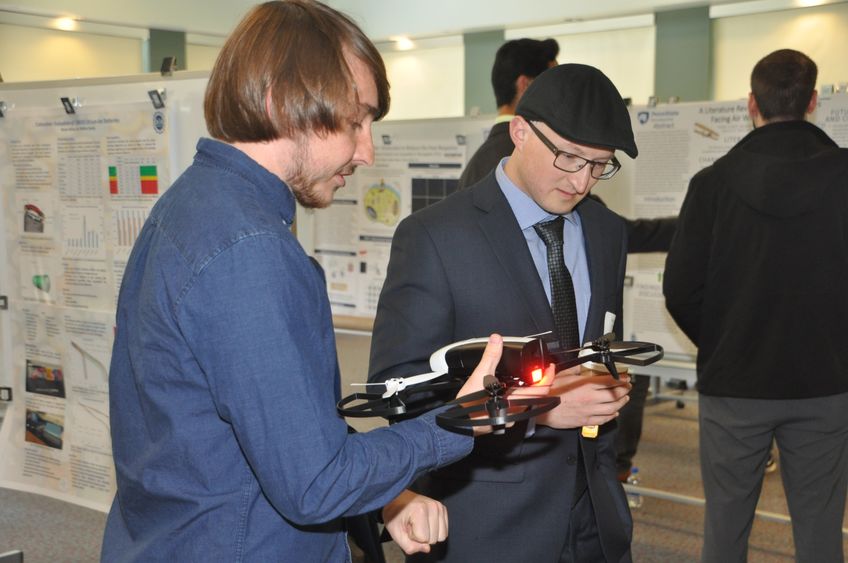 Teams of Penn State Abington students captured the two of the top three awards at the eighth annual Penn State Eastern Regional Undergraduate Research Symposium. They competed against 25 other teams and individual students from Penn State campuses — Berks, Brandywine, Hazleton, Lehigh Valley, Wilkes-Barre and Worthington Scranton.
This year's event featured research from students in areas such as astronomy, biology, criminal justice, engineering, and psychology. Seventeen faculty judges evaluated the projects.
Abington senior Analyn Salabia, a criminal justice major, developed a project titled "Accidental Drug-Related Deaths in Montgomery County, Pennsylvania" with two others. She said there were many benefits to glad participating in ACURA (Abington College Undergraduate Research Activities) through which her group was able to enter their project in this symposium.
"It exposed me to the real world of research," Salabia, who hopes to begin her career in law enforcement, said. "I hope it helps find solutions or interventions to minimize the epidemic."
Eighth annual Penn State Eastern Regional Undergraduate Research Symposium Awards
Category: Physical Sciences, Information Sciences, and Engineering
First place: "Design and Fabrication of CubeSat Prototype and High-Altitude Testing via Weather Balloon" by Kevin Burns, Spencer Yeingst, Harry Sykes and Andrew Fnu
Advisers: Masataka Okutsu and Sabahattin Ozden
Campus: Penn State Abington
Second place: "Trash Retrieval System for the Borough of Jim Thorpe" by David Bonczek, Derek Geake, Maria Magabo and Raiana Nichols
Adviser: Joseph Ranalli
Campus: Penn State Hazleton
Honorable mention: "Consumer Evaluation of Commercial 18650 Lithium Ion Batteries" by Steven Baksa
Adviser: William Yourey
Campus: Penn State Hazleton
Category: Biological Sciences and Health
First place: "Ascorbate Decreases Proliferation of Gastrointestinal Stromal Tumor Cells in vitro and Acts Through a Pro-Oxidant Mechanism" by William Romano and Adam Wasserman
Adviser: Thomas McGuire
Campus: Penn State Abington
Second place: "Coating Polyurethane with 'Self-like' Molecules to Reduce the Host Response" by Sheherbano Hussain, Zoha Babar and Jimmy Hadid
Adviser: Jacqueline McLaughlin
Campus: Penn State Lehigh Valley
Category: Social Sciences and Business
First place: "The Effects of Energy Drink Consumption on Stress, Academic Behaviors, Sleep Patters, and Some Physiological Outcomes" by Pedram Pouladvand
Adviser: Joshua Marquit
Campus: Penn State Brandywine
Second place: A Behavioral Economic Analysis of Media Multitasking: Delay Discounting as an Underlying Process of Texting in the Classroom by Glenn Blessington
Adviser: Yusuke Hayashi
Campus: Penn State Hazleton
Honorable mention: "Impact of Educational Intervention on Organ Donation Attitudes in College Aged Students" by Patrick Douglas Sellers and Kiernan Riley
Adviser: Michael Evans
Campus: Penn State Worthington Scranton
About Penn State Abington
Penn State Abington offers baccalaureate degrees in 19 majors at its suburban location just north of Philadelphia. Nearly half of its 4,000 students complete all four years at Abington, with opportunities in undergraduate research, the Schreyer honors program, NCAA Division III athletics, and more. Students can start the first two years of more than 160 Penn State majors at Abington and complete their degrees at University Park or another campus.