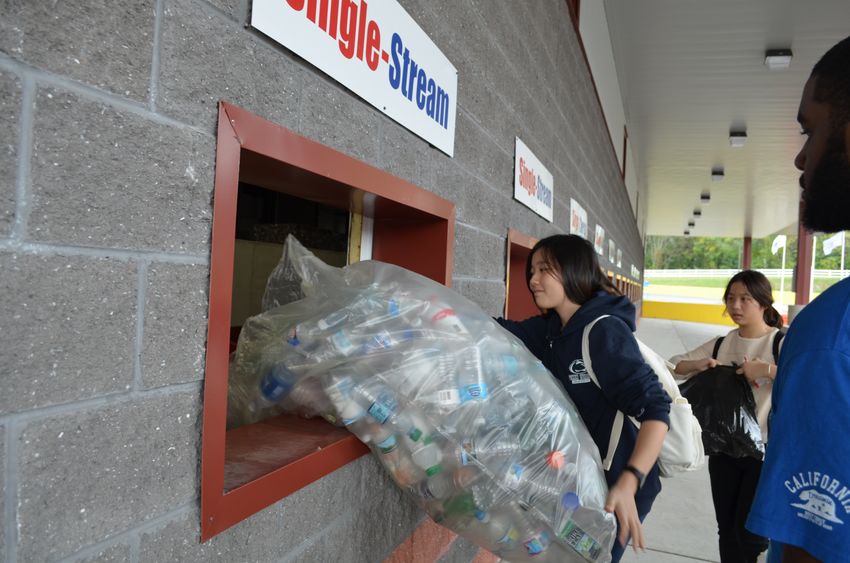 Editor's note: The author, Diana Sienkiewicz, is a first generation college student at Penn State Abington. She is a corporate communication major and information sciences and technology minor. Diana last wrote about learning to network through the campus Center for Career & Professional Development.
Take it from someone whose skin is constantly affected by the chemicals in our tap water, sustainability and sustainable living is an important matter not only for me, but also for you.
Recently, I partook in an opportunity that would educate me about one part of sustainability — recycling. Like many people my age, I grew up being told to not let the water run too long and to recycle. But sometimes, I wondered, what can we really recycle? I've heard that certain things we throw into the recycling bins cannot be recycled or are contaminated and get pulled. I didn't know what was true.
I approached Shelly Grinar-Boyd, my environmental science teacher at Penn State Abington, and she came up with a unique way to educate students about recycling.
She collected plastic bottles from students, gathered the bottles, and organized a trip with a few Penn State Abington students to a recycling facility called TotalRecycle about 50 miles from campus.
Unfortunately, when we arrived TotalRecycle was backed up with two days worth of recycling because a car part got into their stream and damaged a machine. But we still got a tour of the facility, and they answered all of our questions.
Sonny, the outreach coordinator at TotalRecycle, explained what happens to the recyclables after they pass through the sorting system. Different companies buy what the facility has to offer. TotalRecycle's largest recycled paper buyer just happens to be China. Why China?
"China is the biggest buyer because they don't have trees so they need this fiber," Sonny said.
So were my questions answered? For the most part, yes. For example, any recyclable that's heavily damaged by grease stains isn't considered recyclable anymore. You don't have to wash your recyclables, but you should scrape out the remaining substances so the machines can avoid sorting them incorrectly.  
Unfortunately, even though plastic grocery bags are recyclable, not many facilities recycle them. To combat this, Dawn Yao, an international student and the president of the Sustainability Club at Abington, is collecting plastic grocery bags from Abington students and trying to find out how they are recycled. She hopes to organize a trip with Abington students to a facility that will accept them.
Overall, when you actually visit a recycling facility and talk with the people who work with the recyclables, you get an appreciation for the process. It's a lot less anonymous. In fact, it changes your behavior and makes you, or me anyway, want to redouble my efforts to save the Earth. The only Earth we have.
About Penn State Abington
Penn State Abington offers baccalaureate degrees in 18 majors at its suburban location just north of Philadelphia. Nearly half of its 4,000 students complete all four years at Abington, with opportunities in undergraduate research, the Schreyer honors program, NCAA Division III athletics and more.