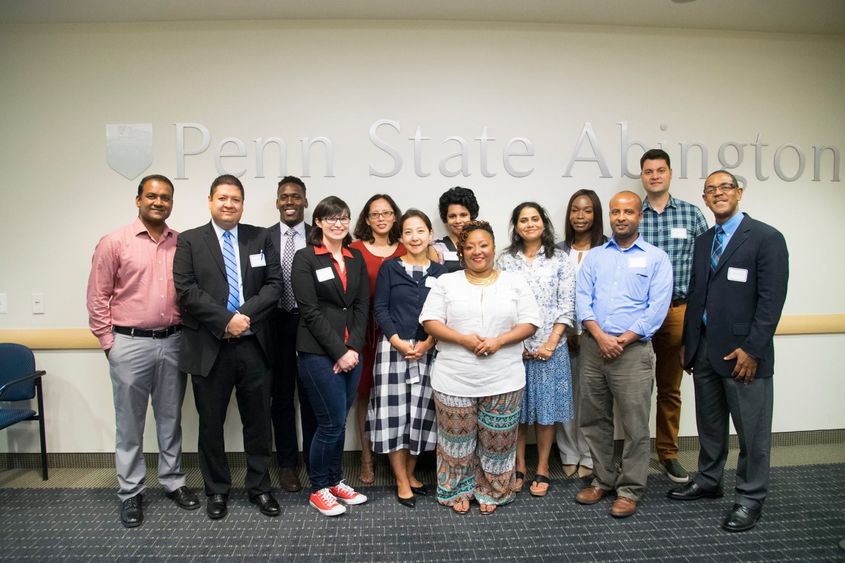 ABINGTON, Pa. — Penn State Abington deepened and broadened its teaching ranks this fall, adding 28 new full-time faculty. Their impressive achievements and national and international ties fit with the college's commitment to provide transformative experiences to students.
Full-time faculty build relationships and work collaboratively with students on research and other projects while helping them remain on the path to graduation.
Spotlight On New Abington Faculty: Abigail Akande, assistant professor, rehabilitation & human services
Abigail Akande adds a global perspective to courses she teaches in the Rehabilitation & Human Services (RHS) major, which trains Abington students to work with people impacted by disabilities. She examines the way issues such as refugee, immigration, and minority status affect how — and if – people with disabilities access services.
"My primary interest is disparities in health-service provision for women with disabilities who are immigrants or who live in developing countries," she said. "I am especially interested in magnifying differences in experiences between immigrants and American ethnic minorities with disabilities seeking services."
Akande teaches a mix of introductory and upper-level courses this fall including medical aspects of disability, and introductions to rehabilitation services and disability culture.
"One reason I looked forward to working at Abington is that this major is a jumping board for so many fields including education, occupational and physical therapy, and nursing graduate programs," she said.
"Undergraduates are trying to figure what they are good at, and they are setting themselves up to succeed with this degree."
Penn State Abington, formerly the Ogontz campus, offers baccalaureate degrees in 19 majors at its suburban location just north of Philadelphia. Nearly half of its 4,000 students complete all four years at Abington, with opportunities in undergraduate research, the Schreyer honors program, NCAA Division III athletics, and more. Students can start the first two years of more than 160 Penn State majors at Abington and complete their degrees at University Park or another campus. Lions Gate, the first residence hall on campus, opened in August 2017.