Recent Abington student plans to complete graduate school at Columbia while working for Campbell Soup Co.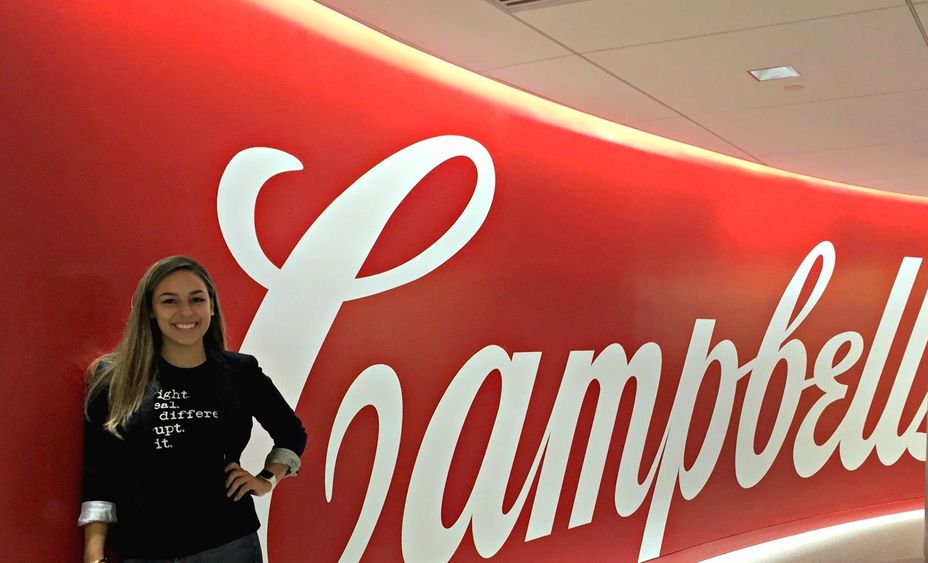 ABINGTON, Pa. — Melissa Aguilar shows no signs of slowing down since she graduated from Penn State Abington in 2016. 
After earning her bachelor's degree from Abington in psychological and social sciences with a minor in women's studies, Aguilar immediately enrolled in graduate school at Columbia University in New York City. She plans to complete her master's degree in social-organizational psychology from Columbia in May following a jam-packed two years in the Big Apple.
During her first year at Columbia, Aguilar worked at NBCUniversal at the iconic 30 Rockefeller Plaza building.
"I worked in executive search, where we find and recruit executive talent across all the businesses in NBCUniversal from vice president level and above. It was a great learning experience," the onetime Abington THON chair said.
Aguilar returned to the Philadelphia area this summer and started working at Campbell Soup Co. as an intern in the talent management sector of human resources. For the coming academic year, she will continue to work at Campbell. She will split her time among the Pepperidge Farm (owned by Campbell) headquarters in Connecticut; Campbell Soup world headquarters in Camden, New Jersey; and working remotely from New York City.
Aguilar keeps connected with Penn State Abington and said she "could go on for days about how Abington helped me."
"The classes that I took and the professors helped me especially with research and analytics," she said. "But, surprisingly, it was the soft skills from extracurricular activities and being THON chair and working with different clubs that really helped me to be a high achiever."
In addition to serving as THON chair at Abington, Aguilar participated in undergraduate research and was an active member of the campus community.
Penn State Abington, formerly the Ogontz campus, offers baccalaureate degrees in 18 majors at its suburban location just north of Philadelphia. Nearly half of our 4,000 students complete all four years at Abington, with opportunities in undergraduate research, the Schreyer honors program, NCAA Division III athletics, and more. Students can start the first two years of more than 160 Penn State majors at Abington and complete their degrees at University Park or another campus. Lions Gate, our first residence hall, will open in August.