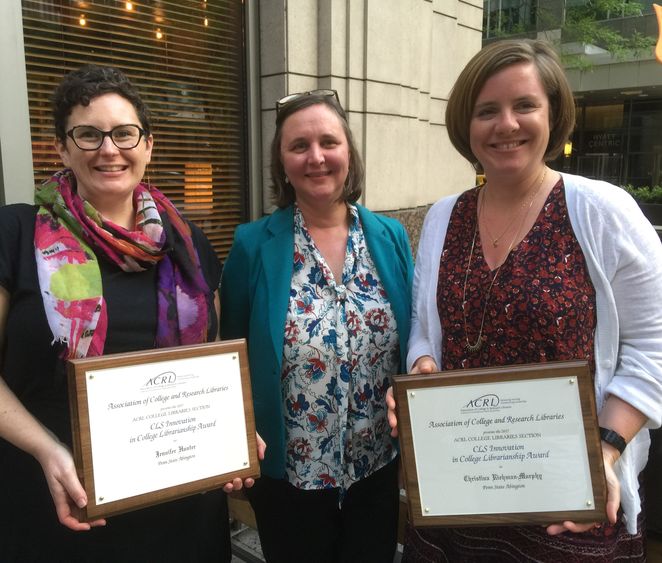 ABINGTON, Pa. — Two Penn State Abington librarians clearly learned how to share as kids. They share the same start date working for the University, and together they picked up a national innovation award while attending the American Library Association conference in Chicago late last month.
Jennifer Hunter and Christina Riehman-Murphy, Penn State University Libraries reference and instruction librarians at Abington, received the 2017 Innovation in College Librarianship Award and a $1,000 prize.
The pair was honored for their Research Parties, drop-in social research consultation sessions, and TED Talk as Research Inspiration programs, which blend a book-club-type environment with instruction.
Award chair Leah Dunn, university librarian at the University of North Carolina-Asheville, announced the honor in February, noting that the pair was chosen because the project represented a new model.
"The program offers a more interactive model of instruction and promotes the library as an integral part of the college's mission by helping them 'forge their own success as productive, responsible, and discerning citizens of a global society,'" Dunn said. "The nominees created low-tech, high-impact methods of relationship building that are easily replicated."
Hunter received a master's degree in library and information science from Rutgers University and a master's degree in English literature from Rutgers University-Camden. Riehman-Murphy received a master's degree in library science from Clarion University.
Penn State Abington, formerly the Ogontz campus, offers baccalaureate degrees in 18 majors at its suburban location just north of Philadelphia. Nearly half of our 4,000 students complete all four years at Abington, with opportunities in undergraduate research, the Schreyer honors program, NCAA Division III athletics, and more. Students can start the first two years of more than 160 Penn State majors at Abington and complete their degrees at University Park or another campus. Lions Gate, our first residence hall, will open in August.