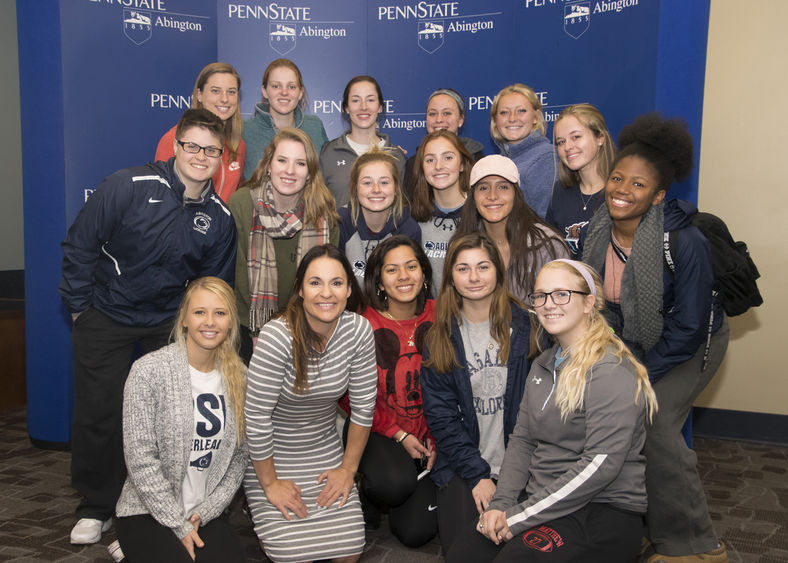 ABINGTON, Pa. — Jen Welter is a triple threat — a sports psychologist, the trailblazing first female coach in the NFL, and a powerful role model — so when she talked to Penn State Abington students about leadership, they were prepared for her candid advice.
"Real life is not perfect, it's not polished. It's like in sports, sometimes you have to get dirty," she said in her booming voice.
Welter, whose doctorate is in sports psychology, spent the morning connecting with student athletes and coaches, and the afternoon talking to the campus community at large.
"It's easy to get stuck in a world that's full of limits instead of possibilities," she cautioned. "You have the opportunity to change people's lives every day and show people they are capable of doing things they didn't know they could."
She also talked about the power of communication.
"Sometimes you need to stop looking for conflict and looking to be offended. Get past some of those barriers and communicate," Welter told them as she strode across the stage. "Sometimes you need to whisper when everyone else yells."
Welter shared stories with Abington students from her 18 years of experience in fitness and professional athletics.
She played rugby for Boston College, and she is a veteran of several women's professional and semi-professional football teams. Welter was a member of the 2010 and 2013 gold medal-winning USA Team at the International Federation of American Football's Women's World Championship.
In 2014, Welter became the first woman to play running back in a men's professional football league when she signed with the Indoor Football League's Texas Revolution. She became the first woman to coach in a men's professional football league in 2015 when she served as linebacker and special teams coach for the Revolution.
Welter made history coaching the Arizona Cardinals' inside linebackers for their 2015 training camp and she formed a strong bond with her team.
++++++++++++++++++++++++++++++++++++++++++++++
Penn State Abington, formerly the Ogontz campus, offers baccalaureate degrees in 18 majors at its suburban location just north of Philadelphia. Nearly half of our 4,000 students complete all four years at Abington, with opportunities in undergraduate research, the Schreyer honors program, NCAA Division III athletics, and more. Students can start the first two years of more than 160 Penn State majors at Abington and complete their degrees at University Park or another campus. Lions Gate, our first residence hall, will open in August.