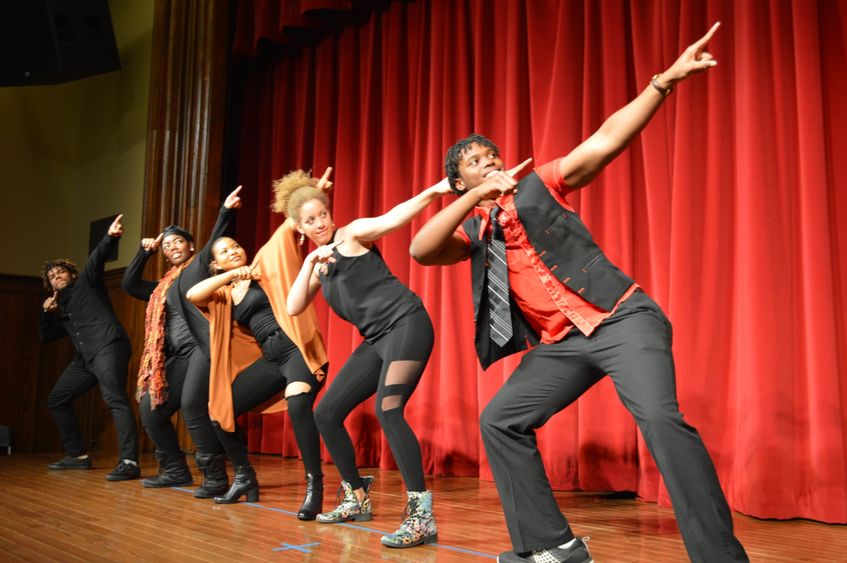 ABINGTON, Pa. — Eight Penn State Abington students celebrated the diverse culture that defines the Abington experience through an ensemble-based production titled "Spring '17: The Diversity Project." 
Through movement, music and video projections that create atmosphere and show family photos and role models, "The Diversity Project" explores the cultures and identities of the cast.
Martha Kemper, theatre faculty member and director of the show, said there are no long, individual narratives.
"Everyone's on stage at the same time," she said. "There's some solo activity. Someone might be playing a ukulele. Some will respond to something a cast member has said. Sometimes two or three people will be intersecting."
Kemper said the cast members take their cue from a format developed by Ping Chong & Company's interview-based theatrical works. The students have interviewed each other for the spring show to craft what Kemper calls "a mosaic of cultural identity and personal story."
A Liberian student narrated her family's dramatic escape from rebels. Another will describe how she balanced her shared Jamaican and American cultures. One student, born in China, explored growing up in America with adoptive Caucasian parents. Yet another recalled surviving the drugs and violence he witnessed as a youth in West Philadelphia.
These oral histories explored how the students or their families have intersected with world, national or local events, from recollections of 9/11 to a grandmother's experience with Philadelphia civil rights leader the Rev. Leon Sullivan as he helped create much-needed jobs for African-Americans.
"The Diversity Project" has evolved from student exercises Kemper employs in her Theatre in Diverse Cultures course. The cast members are Honora Hegerty, Ko Kamiya, Joshua Leatherberry, Vanessa Mabande, Rodney Reid, Nikita Walker and Bridget Welsh. This ensemble-based oral history first took the stage last fall.
There was a talk-back with the audience after each hourlong performance. The show was presented with Penn State Abington Cultural and Community Events.