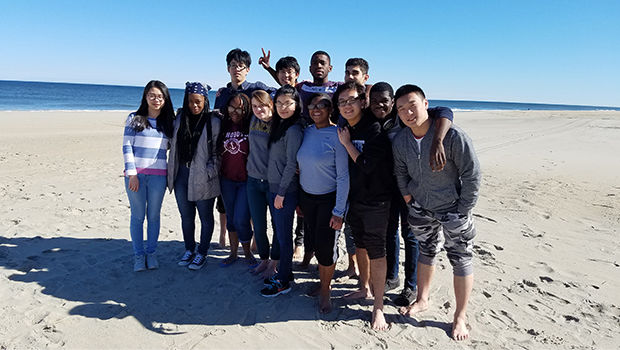 ABINGTON, Pa. — The impact of the semiannual Diversity Leadership Retreat (DLR) on Penn State Abington students is easy to discern if one reads their Facebook posts:
"I hope everyone learned as much as I did about myself during the retreat. One of the greatest experiences of my life!"
"Truly privileged (get it?) to have been a part of this."
"It's truly a blessing to have the opportunity to learn more about diversity and others. I'm grateful for being able to experience this again and for being a facilitator."
The students spent 12-hour days during spring break digging deep into issues of leadership and diversity under the guidance of student facilitators and staff from the Abington Office of Diversity, Equity, & Inclusion (DEI). 
The DLR is open to all students and gives them the opportunity to reflect and learn in the relaxed town of Rehoboth Beach, Delaware. DEI staff challenges students through activities to look within themselves and build connections from their experiences. They explore individuality, group dynamics, identity, social justice, ethics, and communication.
The four-day retreat helps students to engage with individuals who are different from themselves, build bridges of understanding, and develop friendships. And they explore how their lives are affected by diversity every day.
John Nguyen, retreat facilitator and assistant director of the Office of Diversity, Equity, & Inclusion at Abington, said each retreat is unique because there are different students each time.
"The spring 2017 participants shared bits and pieces of their journeys and through various activities were able to connect to the greater understanding of themselves as well as their piece in making our world more diverse, equitable, and inclusive for all," he said.
"Our goal is to help our students to become more understanding, aware, and knowledgeable, and become advocates and global citizens," he concluded.
By the end of the week, Nguyen said the students began to understand their own definition of diversity and its importance.
"I'm so grateful to be able to guide students on their journey to understanding diversity, equity, and inclusion. … I hope students will take what they learned and use it everyday to make their lives and the lives of others better," Nguyen said on Facebook.