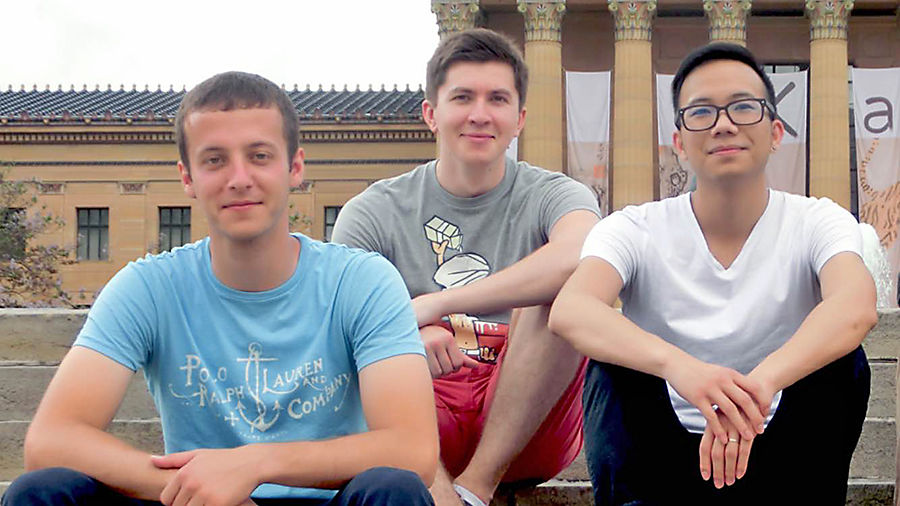 Take a look in your basement, spare room or closet and you might see an old sofa, refrigerator or television. But a trio of Penn State graduates sees opportunity.
Weiliang Lei, energy engineering, 2012; Endrit Ali, computer engineering, 2012; and Andriy Bokalo, electrical engineering, 2013; in April launched Wastekon, a company that designed a website to link reusable materials to collectors, or those in need.
The business partners said they saw a need for the service as undergraduate students at Penn State's University Park campus.
"We saw a lot of furniture outside of dumpsters at the end of the semester. Some of these items stay outside and get destroyed by the weather. So, with this website, users can post it online and interested parties can get the items," said Lei.
Wastekon.com is a free service for people to dispose of unwanted goods by allowing users to request disposal services. Users are able to specify the item pickup date and time that is convenient for them.
Knowing that a dedicated and expansive user base is integral to success, the trio now focuses on promotion, a task the founders admit is something they're learning on the fly.
"We are all engineers, so it's much easier to create a product, and now we're in the stage of learning how to market it, how to promote it. How to use social media. That's something a little bit new to us," said Bokalo. "Creating a product? No problem. We got together, designed it, coded it and published it."
Right now, the Bethlehem, Pennsylvania, based company is reaching out to the more urban areas of New York, New Jersey, Washington, D.C., and Philadelphia. The goal is to gain a footing in these areas — and reliable users — before expanding.
They're approaching marketing using time-tested engineering methods. They've identified the problem, and they're trying different methods to see what gives the most bang for their buck.
"It seems like every day that we do that we come up with what ways work best. We're gaining experience I think in a short amount of time," said Ali.
The graduates toyed around with a few other business ideas but, after seeing the potential with Wastekon, began putting all their energy into its future. All three have full time jobs, so it has led to some late nights.
It's worth it, if you ask Lei. He's passionate about Wastekon because it hits on so many of his core values reinforced through his major: reusing items is more sustainable because it takes much less energy than recycling and rescues it from a landfill. Also, the service links items to those in need. Lastly, it offers a free service that would otherwise cost money in many communities.
"It kind of features both sides of the users," said Bokalo.
Also, as Ali said, the timing was right, a key element of a successful business venture.
"You can have a great idea but if you launch it at the wrong time it might not work," Ali said. "We came up with a great idea, and we knew this was the right time so we tried to do that and follow through with it."
The entrepreneurs encourage budding engineers to expand their minds, and their course load. They stressed the importance of taking business, marketing and leadership classes for any engineer with an inkling for starting a business. Lei said college is the best time to begin entrepreneurship because you have the time and the resources.
While attending Penn State, Lei said he realized the need for society to become more energy efficient, and that included reusing over recycling. That passion for wanting to solve those efficiency problems prompted him to change his major to energy engineering and to invest his free time into starting a company advancing those same goals.
Ali and Bokalo met in high school before attending Penn State's Abington Campus, where they met Lei.
"We hope that this will inspire some other students to follow through with whatever ideas that they have. Because I know there are a lot of great ideas at Penn State," said Ali.
Contact
Patricia Craig
Marketing and communications, Earth and Mineral Sciences